About The Iron Lady (2011)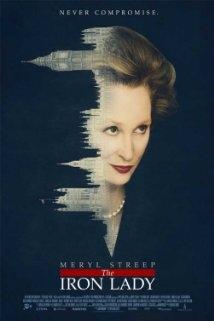 Nominated for four BAFTAs including Leading Actress and Supporting Actor, 
The Iron Lady,
 starring Meryl Streep, tells the compelling story of Margaret Thatcher, a woman who smashed through the barriers of gender and class to be heard in a male-dominated world. The story concerns power and the price that is paid for power, and is a surprising and intimate portrait of an extraordinary and complex woman.
Starring: Meryl Streep, Jim Broadbent
Directed by: Phyllida Lloyd
Runtime: 105 minutes
Studio: The Weinstein Company
Amazon US
Amazon UK
IMDB
Review: The Iron Lady 
Margaret Thatcher's time as Britain's Prime Minister (1979-1990) still divides the UK and her recent death saw the same anger and condemnation resurfacing. I am from the north of England where Thatcher's name was reviled as I grew up in a mining town in the eighties. Phyllida Lloyd's The Iron Lady looks at Thatcher in her later years where she is struggling to come to terms with the death of her husband. Margaret (Meryl Streep) still keeps her husband Denis' (Jim Broadbent) clothes and is reluctant to let him go. She sees Denis each day and through their conversations we are taken back through Margaret's life from humble origins to one of the most powerful women in Britain.
I recall there being some outcry at depictions of Margaret Thatcher in this film, struggling in her twilight years and seeing her dead husband but it is apt for a woman who is grieving for the love of her life. Margaret's rise to power in a political landscape dominated by men is still a remarkable feat. In her youth, Margaret (Alexandra Roach) is depicted as idolising her father who was involved in politics and as a young woman Margaret seeks to win a local election but fails. She marries Denis (Harry Lloyd) who persuades her that his support can help her move forward. Although Denis and Margaret have two children, Margaret is fully focused on a political future and soon finds herself claiming a seat in the House of Commons and slowly building her way up to not only challenge for control of the Conservative Party but to emerge as its leader. Given Thatcher's eventful time in power, the film cannot cover every aspect of her career but it does show both memorable and controversial incidents including the Falklands War, the Miner's Strike, the Brixton Riots, the bombing at the Gran Hotel where Margaret was nearly killed and her eventual fall from power after the poll tax and her own party members turning against her.
The film falls short of two hours and with spending a lot of time in the present day, it does feel like we rush through much of Margaret's career. I don't think the film would have suffered for being a bit longer but what is there is well done. The main talking point is undoubtedly the performance of Meryl Streep that bagged her an Oscar. Streep excels in the title role and is well worth all the plaudits, making a very convincing Thatcher on screen. Broadbent is always reliable and he doesn't disappoint here while the rest of the cast support Streep well in her star turn.
The Iron Lady is a fascinating recreation of a Prime Minister that controlled a nation in turmoil and survived for more than a decade before her later policies proved to be her undoing. The film could have maybe been a bit longer but what is there is more than worth your time and Streep is simply superb in the lead. This will do nothing to unite the opposing sides on Thatcher's career but if you want a summary of her actions that split the UK then this a good starting point.
Verdict: 4/5
(Film source: reviewer's own copy)
Film Review: The Iron Lady | Thank you for reading Tweedle Dee and Tweedle Dave