About The Ice Storm (1997)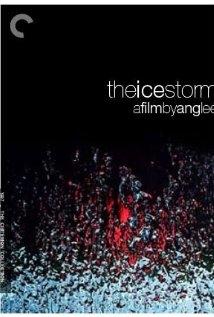 In 1970s middle America Ben Hood (Kevin Kline) continually deceives his wife, Elena (Joan Allen), who is growing tired of his lies, as he conducts an illicit affair with their neighbour, Janey (Sigourney Weaver). Ben's children, Wendy (Christina Ricci) and Paul (Tobey Maguire), are becoming more sexually aware, but the whole family's lives are changed one night when the worst ice storm in 30 years hits the east coast, forcing them to re-assess their situations.
Starring: Kevin Kline, Katie Holmes, Courtney Peldon, David Krumholtz, Michael Cumpsty
Directed by: Ang Lee
Runtime: 108 minutes
Studio: Walt Disney Studios HE
Review: The Ice Storm 
Ang Lee's 1997 drama looks at two American families in the early seventies: the Hoods – Ben (Kevin Kline) and Elena (Joan Allen) and their teenage children Paul (Tobey Maguire) and Wendy (Christina Ricci); the Carvers – Jim (Jamey Sheridan) and Janey (Sigourney Weaver) and their two sons Mikey (Elijah Wood) and Sandy (Adam Hann-Byrd). Both marriages are unhappy ones with Ben having an affair with Janey while Jim's workload has distanced him from his sons, and Elena is feeling lost and looking for new purpose in life. The children are no better. Paul is a light drug user, competing with his roommate Francis (David Krumholtz) for the affections of Libbets Casey (Katie Holmes). Paul's sister Wendy is in the midst of sexual awakening and though Mikey is happy to take part in her games, she also turns to Sandy as well.
Two families in the midst of so much disorder are all affected by an ice storm that descends on the town and causes chaos. Paul thinks his luck is in when Libbets invites him to her home for Thanksgiving but he is shocked to find Francis there and ready to bed yet another girl that Paul likes. Ben and Elena attend a party which turns out to be a wife swapping event. Jim and Janey are also there which only serves to increase the cracks in both marriages. With her parents out, Wendy decides to hook up with Mikey but ends up in the eager company of Sandy instead. Mikey heads out to enjoy the ice storm instead of meeting with Wendy and that night many things change for both families.
Despite a good cast and being in the capable hands of Ang Lee, something seemed to be missing from The Ice Storm. The characters are not particularly likable with Paul probably coming across as the most harmless. The fact he is away at university might have something to do with this. As with real life there are no easy solutions to these broken marriages and tragedy is waiting to strike which is the only thing that can stop the families and give them any clarity.
The Ice Storm isn't Ang Lee's strongest film but it still has some commendable moments. It doesn't have the emotional punch of Lee's Brokeback Mountain, which remains his best in my opinion. This was a good storyline but somehow is lacking in the end.
Verdict: 3/5
(Film source: reviewer's own copy)
Film Review: The Ice Storm | Thank you for reading Tweedle Dee and Tweedle Dave