Summary:
The Hunters isn't a dreadful horror film but it's also one that doesn't really offer anything particularly new.
More DetailsAbout The Hunters (2011)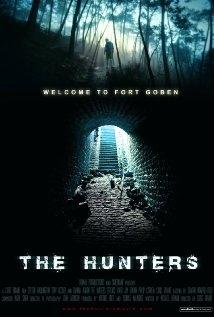 A group of friends face a desperate fight for survival in this horror from first time director Chris Briant. As their school days draw to a close and they get ready to leave the area for college, Alice (Dianna Agron) and her friends decide to spend their last day together in the one place that was forbidden to them as children – the local woods. But their trip soon turns into a nightmare, when, after discovering an apparently derelict fort, they enter and stumble across decomposing remains. Realising they are not alone, the pals soon find themselves the prey of the resident 'hunters', who have only murder on their minds.
Starring: Steven Waddington, Tony Becker, Dianna Agron
Directed by: Chris Briant
Runtime: 106 minutes
Studio: Lions Gate
Review: The Hunters 
Chris Briant's horror thriller has a somewhat misleading trailer and synopsis. It centres around the abandoned Fort Goben where a mixture of locals tend to hang out. Amongst the frequent visitors are a group of hunting friends with one of them, Ronny (Steve Waddington) somewhat chilled by the surroundings, hearing strange noises and even having bad dreams about the place. Clearly the fort is haunted and the hunters are going to run into some ghouls and ghosts, right? That's what I thought anyway but the reality turns out to be very different.
Starting a new job in the police force is Le Saint (Chris Briant) who goes against the wishes of his superior Bernard (Terence Knox) in arranging a meeting at Fort Goben with a secret contact. Le Saint also finds time for a brief meeting with Alice (Dianna Agron) who is rather forward and it seems love is in the air. When Le Saint comes to the fort for the meeting he encounters the four hunters including Ronny and Oliver (Tony Becker) who don't take too kindly to strangers. What follows is a desperate struggle for survival as Le Saint has to call on all his training from a prior stint in the army to survive against the hunters.
The films begins somewhat ponderously, jumping around between the hunters, Le Saint and Alice before taking us out into the heart of Fort Goben where the real action begins. The unmasking of the hunters as the villains is a surprising turn but that's about as far as the creativity goes really. The films descends into pretty standard torture, blood and gore after that. The chase scenes aren't too bad but there's some inevitable love sacrifice when Alice also shows up at the fort with one of her friends clearly hoping for some quality time alone with her. This is a far cry from what the synopsis and trailer suggests though.
The Hunters isn't a dreadful horror film but it's also one that doesn't really offer anything particularly new. The sepulchral voices emanating from Fort Goben promised a far more eerie and frightening experience than we actually end up with. Distinctly average at best.
Verdict: 2/5
(Film source: reviewer's own copy)