About The Ghost (2010)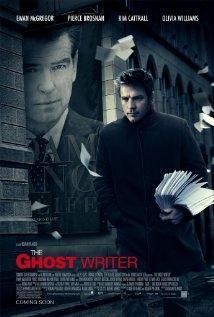 Following the tragic death of his ghost writer, British ex-prime minister Adam Lang (Pierce Brosnan) hires a journalist (Ewan McGregor) to complete his memoirs. No sooner has the new Ghost Writer arrived at the Lang's isolated island retreat to begin the job, when Lang is accused of being involved in War Crimes during his time in office, and a huge political storm breaks. The scandal brings reporters and protesters swarming to the Martha's Vineyard mansion where Lang is staying with his wife Ruth (Olivia Williams) and his media-handler turned mistress Amelia (Kim Cattrall) and, trapped within the confines of the estate, The Ghost is quickly drawn into the political and sexual affairs at play in the house. More disturbing still, as The Ghost researches his subject, he begins to uncover clues suggesting his predecessor had stumbled on a dark secret in Adam Lang's past. Suddenly, it begins to seem likely that his untimely death might not have been an accident after all….
Based on the bestseller by Robert Harris (Fatherland, Enigma, Archangel) The Ghost is an edgy, atmospheric and enthralling thriller from Academy Award-winning director Roman Polanski.
Starring: Ewan McGregor, Pierce Brosnan, Olivia Williams, Robert Pugh, Eli Wallach
Directed by: Roman Polanski, Herve De Luze
Runtime: 123 minutes
Studio: Optimum Home Entertainment
Amazon US
Amazon UK
IMDB
Review: The Ghost 
Roman Polanski's thriller sees a ghost writer (Ewan McGregor) hired to work with former British Prime Minister Adam Lang (Pierce Brosnan) on his memoirs. Lang's aide Mike McAra who was working with him has died mysteriously having fallen from a ferry and drowned in what is believed to be an accident. The ghost stays in a hotel in the Old Haven on Martha's Vineyard where he travels to visit Lang and gain access to the manuscript that needs to be turned into a book. Among Lang's residents are his wife Ruth (Olivia Williams) and Lang's PA Amelia (Kim Cattrall) who explains the manuscript can not be taken from the house.
While working on the memoirs the ghost begins to wander the island and finds that not everything is as it seems. A local resident tells the ghost that the tides could not have carried McAra's body from a ferry to the beach where it was found. The ghost also learns that another resident saw flashlights on the beach the night of the accident but she is now in a coma following a fall. It seems that McAra may have uncovered something he shouldn't have while researching Lang's life. The question is can the ghost find out the truth or will he end up in danger as well?
This was an enjoyable and fascinating thriller throughout. It was great to see Ewan McGregor again who puts in a good performance as the ghost while Brosnan is equally good as the controversial former PM whose days in office come back to haunt him as he tries to pen his memoirs. Cattrall and Williams offer good support and there is a welcome appearance from Tom Wilkinson as well. You will struggle to work out the complete mystery and with the characters the ghost meets seeming somewhat elusive from the start it is hard to decipher who is keeping secrets.
The Ghost is a solid and intriguing thriller that offers a compelling puzzle. A good cast do their best to throw you off the scent and the ending, though a little surprising, is an effective conclusion to what we have just experienced.
Verdict: 4/5
(Film source: reviewer's own copy)
Film Review: The Ghost | Thank you for reading Tweedle Dee and Tweedle Dave