Review of:
The Burning (1981)
Film:

Tony Maylam
---
Reviewed by:
David M. Brown
Rating:

3
On
June 13, 2013
Last modified:
June 13, 2013
---
Summary:
The Burning is an effective horror film with plenty of gore, randy teenagers and some genuinely surprising moments.
More Details
About The Burning (1981)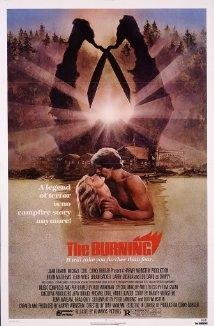 A group of teenagers try to play a prank on their summer camp caretaker but it badly misfires. Years later the hideously disfigured victim seeks revenge by returning to the camp with a pair of hedge clippers…This gory horror film features Holly Hunter in her screen debut and a scary synthesizer score by keyboard wizard Rick Wakeman.
Starring: Brian Matthews
Directed by: Tony Maylam
Runtime: 91 minutes
Studio: MGM
Amazon US
Amazon UK
IMDB
Review: The Burning 
Drawing on Friday the 13th Tony Maylam's The Burning brings more terror to a summer camp and makes you wonder why people go to these places when there tends to be a resident killer lying in wait. The film begins in 1976 where a group of teenagers play a prank on Cropsy (Lou David), the unpopular caretaker at their summer camp. They place a skull by Cropsy's bed and light candles in the eye sockets. Meant as a way of scaring the caretaker, the skull ends up setting both the bed and Cropsy on fire! Five years later Cropsy leaves hospital severely disfigured and returns to the summer camp – Camp Stonewater – intent on revenge against everyone there.
After being released from hospital, Cropsy picks up a prostitute who refuses to sleep with him and ends up murdered with a pair of scissors. For some reason Cropsy retains scissors as his weapon of choice when he heads for the summer camp where dozens of horny teenagers are prime targets for his vengeance. Todd (Brian Matthews) and Michelle (Leah Ayres) are in charge of the group and what a group they are. Alfred (Brian Backer) is one of the key characters though things don't begin well for him. He is caught spying on Sally (Carrick Glenn) in the showers and her boyfriend, Glazer (Larry Joshua), targets Alfred from then on whenever he isn't trying to sleep with Sally. Eddy (Ned Eisenberg) is another horny member of this group, pressuring his girlfriend Karen (Carolyn Houlihan) for sex but she isn't sure. When some of the group take some canoes downriver they later find them gone and Cropsy is on the loose ready to pick them off one by one. Inevitably hormones supersede general welfare and Cropsy starts to slaughter anyone that gets in the way of his scissors. The question is who will survive?
This isn't a bad slasher film. I'm still puzzled why Cropsy couldn't find anything more brutal than a pair of scissors to attack the teenagers with but in fairness he makes it all look effortless. The film is heavy on the gore and has one or two clever surprises which I didn't see coming. You have to feel a bit sorry for Cropsy. We're told he was a drunk and not a very nice man but you can understand why he might be annoyed after being burned.
The Burning is an effective horror film with plenty of gore, randy teenagers and some genuinely surprising moments. The ending is a bit flat in comparison to what comes before but this is still worth a look if you like plenty of blood in your horror films. Apparently this is Holly Hunter's debut film but I somehow missed her!
Verdict: 3/5
(Film source: reviewer's own copy)

About the Author:
I was born in Barnsley, South Yorkshire, England and have always been a bookworm and enjoyed creative writing at school. In 1999 I created the Elencheran Chronicles and have been writing ever since. My first novel, Fezariu's Epiphany, was published in May 2011. When not writing I'm a lover of films, games, books and blogging. I now live in Huddersfield, West Yorkshire, with my wife, Donna, and our six cats - Kain, Razz, Buggles, Charlie, Bilbo and Frodo.
David M. Brown – who has written 710 posts on Tweedle Dee and Tweedle Dave.
---