About Taken (2008)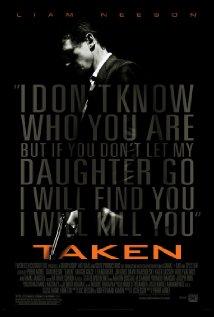 Prepare to get Taken for the ride of your life! "Liam Neeson is an unstoppable force" (Premiere) in this action-packed international thriller that will have you on the edge of your seat from start to finish. When his estranged teenage daughter (Maggie Grace) is kidnapped in Paris, a former spy (Neeson) sets out to find her at any cost. Relying on his special skills, he tracks down the ruthless gang that abducted her and launches a one-man war to bring them to justice and rescue his daughter.
Starring: Liam Neeson, Maggie Grace, Leland Orser, Jon Gries, David Warshofsky
Directed by: Pierre Morel
Runtime: 93 minutes
Studio: Twentieth Century Fox
Review: Taken 
Pierre Morel's action/thriller has every parent's worst nightmare at the heart of the plot but also throws in a father who is more than equipped to save his daughter. Bryan Mills (Liam Neeson) is retired from the CIA and has moved to be closer to his daughter, Kim (Maggie Grace). Bryan is overshadowed by his daughter's stepfather Stuart (Xander Berkeley) while his ex-wife Lenore (Famke Janssen) accuses him of being over-protective. Bryan is dismayed and very concerned when Kim announces she wants to go to Paris with her friend Amanda (Katie Cassidy). After reluctantly agreeing, Bryan is appalled when he learns the traveling to Paris extends beyond France and is to follow U2 on their tour across Europe.
Despite Bryan's warnings about the dangers of the world, Kim and Amanda immediately fall for the charms of Peter (Nicolas Giraud) who invites them to a party. Amanda plans to sleep with him after this brief meeting but any festivities are ended when both girls are kidnapped from their hotel. Kim manages to alert her father of what is happening and he is soon on a plane intent on not just rescuing Kim but bringing hell onto those that have taken her. Bryan's background in the CIA proves invaluable as he begins his search for Kim. He soon finds Peter hanging around at the airport but despite some rough treatment is unable to get the answers he needs.
Bryan's journey through Paris leads him into the dark world of human trafficking. This fate Bryan suspects has befallen Kim and Amanda and he does not mince his words in informing Lenore he has around four days to find their daughter or she will likely be lost forever. Bryan seeks the aid of Jean-Claude (Olivier Rabourdin), a former colleague, who warns Bryan to leave Paris, concerned about the damage he will do. Bryan ignores the warnings and begins his hunt, crossing paths with Albanian pimps and drug dealers in a desperate search for his daughter. In asking questions Bryan relies on the usual unpleasant methods of interrogation – torture – and although you may grimace at what his victims go through I doubt you'll feel much pity for them.
Taken is a fast-paced thriller with Neeson proving more than adept as the tough hero. He's a bit rusty getting back into the swing of things but once he gets going he is almost unstoppable. After all the bloodshed there is an inevitable happy ending with father/daughter bonding but the rest of the film is tense and exciting throughout. Hopefully the sequel will not taint this effort.
Verdict: 4/5
(Film source: reviewer's own copy)
Film Review: Taken | Thank you for reading Tweedle Dee and Tweedle Dave