About Sympathy for Mr Vengeance (2002)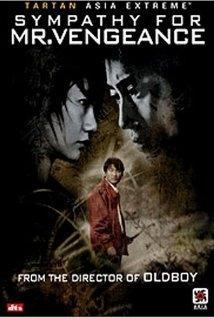 Dark thriller by Korean director Chan Wook Park. A deaf mute, Ryu (Shin Ha-Kyun) saves all his hard-earned money for his sister who requires a kidney transplant. He has the wrong blood type to be able to donate one of his kidneys, so he arranges a trade with a group of black-market organ dealers: one of his kidneys and 10 million won in return for their finding a kidney for his sister. Just as the criminals renege on the deal, a legitimate kidney becomes available for transplant. Unfortunately, Ryu no longer has the 10 million won required for the hospital to perform the operation. In retaliation, he and his political activist girlfriend kidnap his former boss's daughter – but events quickly spiral quickly out of control…
Starring: Kang-ho Song, Ha-kyun Shin, Doona Bae, Ji-Eun Lim, Bo-bae Han
Directed by: Chan-wook Park
Runtime: 129 minutes
Studio: Tartan Video
Amazon USAmazon UKIMDB
Review: Sympathy for Mr Vengeance 
Chan-wook Park's Vengeance trilogy is one I have been keen to finish for some time. Oldboy (2003) was superb and Sympathy for Lady Vengeance (2005) was good but not up to the standards of its predecessor. Sympathy for Mr Vengeance was the first in this trilogy and I was understandably curious to see just how it would compare to the other instalments.
The film focuses on Ryu (Ha-kyun Shin), a deaf man who works at a factory and supports his sister (Ji-Eun Lim) who needs a kidney transplant but is on a lengthy waiting list. Ryu is unable to donate an organ as his blood type doesn't match that of his sister. Problems arise when Ryu loses his job and in desperation he turns to a black market dealer who agrees to give him a kidney in exchange for one of his own and for the money he has saved for his sister. Ryu wakes to find both his kidney and his money gone with nothing in return for his sister. Ironically the hospital informs Ryu they now have a kidney but he no longer has the money to save his sister's life. In desperation, Ryu and his girlfriend Cha yeong-mi (Doona Bae) decide to kidnap the daughter of Ryu's former boss and ransom her to save Ryu's sister.
Sympathy for Mr Vengeance has a great storyline and in Ryu we have something of a saint. Each day he works himself into the ground at the factory to support his ill sister. He's very much the victim of ill fortune which in the end drives him to violence. Losing his job is bad enough but he does at least have the money to get his sister a kidney transplant but with no organs available he gets desperate. His contact on the black market is a mother and her two sons who offer a good deal only to shaft Ryu, leaving him penniless and minus a kidney. When the hospital announces they can now do the transplant, Ryu is devastated, knowing had he held on for a few days his sister would be saved. Ryu's girlfriend, Cha Yeong-mi, who is something of an anarchist and claims to head a terrorist group, helps Ryu with a desperate plan.
Initially seeking vengeance against his former boss, Ryu and Yeong-mi decide kidnapping the boss' daughter would be too risky with the police bound to suspect recently sacked workers. Instead Ryu and Yeong-mi target a friend of the factory boss, Park Dong-jin (Kang-ho Song) and kidnap his daughter, Yu-sun (Bo-bae Han). With a distraught Dong-jin eager to pay any ransom for his daughter, what can possibly go wrong for Ryu and Yeong-mi? Well, everything bad that could happen does! Ryu's sister discovers her brother's scheme and, devastated by his actions, she kills herself. Worse follows when Yu-sun accidentally drowns leaving Ryu and Yeong-mi at the mercy of Dong-jin. The film becomes a gripping thriller as Ryu seeks vengeance against the black market dealers, while Dong-jin seeks vengeance against Ryu and Yeong-mi. Sounds messy doesn't it?
Sympathy for Mr Vengeance is absorbing throughout. Ryu's crusade to save his sister is heart-warming and the lengths this seemingly gentle man goes to are admirable. On the one hand Ryu is a sympathetic character, his ill fate making you cheer when he seeks vengeance but his actions in the ransom are questionable as are Yeong-mi's in assisting her boyfriend. What I love about this trilogy is what vengeance reduces people to. Polite and law-abiding citizens become capable of some truly horrific acts of violence when they have been wronged and Dong-jin is no exception. This is far better than Sympathy for Lady Vengeance but it's inferior to Oldboy in my opinion.
Sympathy for Mr Vengeance is a tense, exciting and violent thriller. The unfortunate twists of fate hit the lives of a group of characters hard. There are no real heroes by the end of the film and you will be kept guessing how it turns out. Oh, and there's a nice twist right at the very end. All in all, this is a great film.
Verdict: 5/5
(Film source: reviewer's own copy)
Film Review: Sympathy for Mr Vengeance | Thank you for reading Tweedle Dee and Tweedle Dave