About Stranger Than Fiction (2006)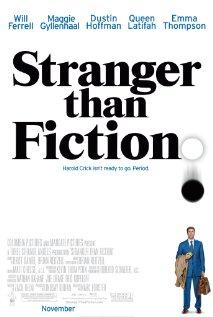 Will Ferrell, Queen Latifah, Maggie Gyllenhaal, Emma Thompson, Dustin Hoffman. Harold Crick is a strangely isolated IRS agent who begins to hear the intrusive voice of an author who's narrating her latest novel about a fictional character. But the intimate details of her narrative happen to coincide with every detail of Harold's dull life.
Starring: Will Ferrell, Emma Thompson, Dustin Hoffman, Queen Latifah, Maggie Gyllenhaal
Directed by: Marc Forster
Runtime: 113 minutes
Studio: Sony Pictures Home Entertainment
Review: Stranger Than Fiction 
As a writer of fiction I do put my characters through some awful events, ordeals I would not wish on anyone but somehow they forgive me and continue to thrive on the pages. I'm not sure what I would say if I ever met any in person. Marc Forster's Stranger Than Fiction covers such an eventuality, having a writer struggling to complete a manuscript and every event depicted in it affecting someone in real life. It's an intriguing concept but is it any good?
The film follows the story of Harold Crick (Will Ferrell) who spends his days as an auditor for the Internal Revenue Service. It's a thankless job as you can imagine but one which Harold devotes himself to. Harold's life changes when his next meeting is with a baker, Anna (Maggie Gyllenhaal) who is a tad lax when it comes to her taxes but rather than being ruthless with her Harold finds himself drawn to the young woman. Even worse for Harold is the emergence of a voice that appears to be narrating his life though he has no idea where it is coming from. Things take a serious turn when Harold's watch stops and he has to reset it only to hear the narrator mention how this one event will lead to his untimely death!
Harold's sudden dilemma at having his life narrated is actually an exciting event as well as his meeting with Anna. Prior to this Harold is a somewhat sad character with nothing in his life other than his work so the sudden injection of a love interest shows promise but the narrator's insistence that Harold will soon die leaves the rest of the story on a knife edge. A psychiatrist at first argues Harold may have schizophrenia but offers the alternative suggestion that it could be a narrator. This claim is corroborated by university professor, Jules Hibert (Dustin Hoffman), who informs Harold he must try to locate the author but first he needs to figure out what sort of story the narrator is telling. Harold's approaching death points to a tragedy, his meeting with Anna could promise a romance but there are suggestions that this is a comedy as well.
Despite knowing that he will soon die Harold embraces what little life he has left and begins to live a little. Taking time off work Harold enjoys time with Anna and learns to play the guitar. Any hope that he may avoid his death is shattered when by chance he identifies the narrator's voice as the author Karen Eiffel (Emma Thompson). Jules informs him that he knows Karen's work well and every novel she writes leads to a tragic death for the main character. Though Karen is struggling to complete her manuscript she has an assistant Penny (Queen Latifah) on hand to maintain her focus. With such a revelation Harold has to enjoy being with Anna before the end comes. His life is beyond his control.
Stranger Than Fiction boasts a fabulous cast and Ferrell, Gyllenhaal, Hoffman and Thompson are all on good form. It was great to see Ferrell taking on a more serious turn in this particular film and you'll likely be moved by this man who begins with a seemingly empty existence but has a chance to let his hair down and live for the first time. Does he somehow escape his fate or is destiny unavoidable? You'll have to watch the film to find out the answers I'm afraid. By the end I found myself feeling somewhat guilty at the turbulent lives I write for my characters and certainly Karen's struggles in completing her novel reflect how tough it can be for some of us writers.
Stranger Than Fiction is an enjoyable comedy with a moving romance, some amusing moments and a stellar cast leading us through what is an interestingly different storyline. Certainly not the sort of film that would be the biggest box office draw of the year but they're seldom worth all the hype anyway.
Verdict: 4/5
(Film source: reviewer's own copy)
Film Review: Stranger Than Fiction | Thank you for reading Tweedle Dee and Tweedle Dave