About Shark Knight (2011)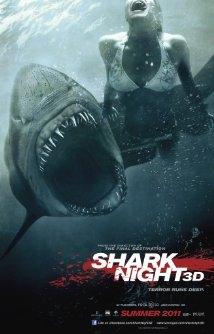 Arriving by boat at her family's Louisiana lake island cabin, Sara (Sara Paxton, 
Superhero Movie, Last House on the Left
) and her friends quickly strip down to their swimsuits for a weekend of fun in the sun. But when star football player Malik (Sinqua Walls) stumbles from the salt-water lake with his arm torn off, the party mood quickly evaporates. Assuming the injury was caused by a freak wake-boarding accident, the group realises they have to get Malik to a hospital on the other side of the lake, and fast. But as they set out in a tiny speedboat, the college friends discover the lake has been stocked with hundreds of massive, flesh-eating sharks! As they face one grizzly death after another, Sara and the others struggle desperately to fend off the sharks, get help and stay alive long enough to reach the safety of dry land.
Starring: Sara Paxton, Dustin Milligan, Chris Carmack, Katharine McPhee, Chris Zylka
Directed by: David R. Ellis
Runtime: 90 minutes
Studio: 20th Century Fox
Amazon US
Amazon UK
IMDB
Review: Shark Night 
Another day, another shark movie. I've seen a fair few of these now and amazingly Jaws remains the best despite many attempts to usurp it. David R Ellis is next in line with Shark Night. The film follows a group of university friends – Sara (Sara Paxton), Nick (Dustin Milligan), Maya (Alyssa Diaz), Blake (Chris Zylka), Gordon (Joel David Moore), Beth (Katherine McPhee) and Malik (Sinqua Walls) – who head for Sara's holiday home on a pristine lake. After an uncomfortable encounter with Sara's ex Dennis (Chris Carmack) and his friend Red (Joshua Leonard), the friends get down to the business of enjoying the water, drinking and partying. However, their hopes of a nice vacation are somewhat scuppered by sharks in the lake!
Many elements of Shark Night are somewhat predictable. Nick is perceived as a geek, it seems he is still a virgin and he is keen on Sara. Sara is the rich girl who dates no one due to a tough time with one guy in the past. Will Nick be the one to melt her heart? Depends on the sharks I guess. The rest of the group are merely fodder for the sharks though Malik is something of a star and one of the sources of concern for me. He is the first to be attacked by the shark while out water skiing (seen that in Jaws 2) and though Malik survives he is minus an arm. Nick pops into the water to retrieve it and there is a desperate swim to shore with Sara urging him on (seen that in Jaws, just not in the arm). Handily, Nick is a pre-med student so knows what to do to help Malik. A lot of the right advice seems to be suggested, the arm is wrapped and he is kept still but then Malik wants revenge against the shark and takes to the water with a spear! It's unclear where the spear came from but this scene seemed an uncomfortable one for me. Malik, a modern day university student, now resembles a tribal warrior! Given that blood is seeping from that arm he survives quite a long time. I recently saw 127 Hours with a guy that removes his own arm and I believe only six hours passed between him losing that arm and being rescued with the assurance that had it been much longer he could well have bled to death. Malik's story is one of many horrifyingly bad moments in this film.
The rest of the film isn't much better. There is something of a plot and a reason the sharks are in a lake. It's a saltwater lake for a start (they didn't fall for that freshwater trap!) but there's another reason the sharks are hunting here. In fairness the plot is something different to what I have come across before but it doesn't rescue the film at all. The characters are not particularly interesting, the motives of the film's villain and the outcome are predictable, the sharks are made up of very poor effects and once again they move at frightening speed and leap completely out of the water. The jumping thing isn't impossible I understand but it is something rare and a shark leaping to take someone off a jet ski? I'm not so sure. That said, sharks have previously been in Venice in another movie so nothing should surprise me now. Maybe there's a director out there now working on 
Sharks in Space. 
Shark Night is an unwelcome addition to the pantheon of appalling shark movies. The effects are poor, the deaths laughable, the villainous plot though different isn't very engaging and in the end the only luxury is that the film is short. I know most of us have seen Jaws and many times I imagine but if you want a good shark movie I'd still steer you back towards that one.
Verdict: 1/5
(Film source: reviewer's own copy)
Film Review: Shark Night | Thank you for reading Tweedle Dee and Tweedle Dave