About Reign Over Me (2007)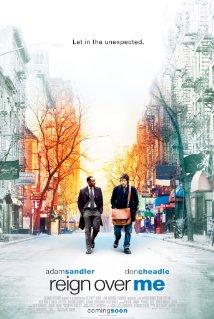 Mike Binder writes and directs this bittersweet comedy drama set in post-9/11 New York, with Adam Sandler and Don Cheadle heading up an all-star cast that also includes Jada Pinkett Smith, Liv Tyler, Saffron Burrows and Donald Sutherland. Charlie Fineman (Sandler) lost his family in the September 11 attack, and has become a shadow of his former self in the five years that have passed since the tragedy. When he runs into his former college roommate Alan Johnson (Cheadle) by chance, their rekindled friendship proves to be a lifeline for both men.
Starring: Adam Sandler, Jonathan Banks, Don Cheadle, Melinda Dillon, Robert Klein
Directed by: Mike Binder
Runtime: 124 minutes
Studio: Sony Pictures Home Entertainment
Review: Reign Over Me
I remember being at my mother's house in Barnsley when the 9/11 attacks were breaking news on BBC1. It's a day that many of us will never forget and I know I'm not alone in feeling the world is a less safer place in the aftermath. Mike Binder's Reign Over Me looks at the impact that terrible day had on families and friends of the victim and builds the story around two men in particular.
The film begins with Alan Johnson (Don Cheadle) who is a successful dentist, is married with children and life seems to be going well for him. He is, however, feeling many pressures with everyday life and things are not helped by the persistent attentions of one of his patients Donna Remar (Saffron Burrows) who is less than subtle in her advances. One day Alan spots what looks his college friend Charlie Fineman (Adam Sandler) racing along the streets on a GoPed with earphones blocking out all the sounds around him. A reunion takes place between the two friends and Alan discovers that Charlie is failing to pick up the pieces in the aftermath of 9/11, a tragic day for so many but for Charlie the near end of his life with his wife and children all killed in the devastating attack. Alan is left to try and bring Charlie back from the void before it's too late.
I admire comedy actors that try to expand into serious roles. Jim Carrey with The Truman Show (1998) and Man on the Moon (1999) and the unforgettable Bill Murray in Lost in Translation (2003) are among my favorite examples. I've enjoyed many an Adam Sandler film, with The Wedding Singer (1998) still being among the best romantic comedies I've ever seen, so I was intrigued to see how he would cope with the transition to serious acting. The good news is Sandler pulls it off very well. Cheadle is excellent as the overworked Alan Johnson but Sandler is superb as the physically and emotionally devastated Charlie Fineman. Fineman initially doesn't recognize his old college friend and his general existence is a lonely one. Once a practicing dentist himself, Fineman tours the streets on his GoPed, the music blazing in his ears helping beat back painful images and memories while at his apartment he is in a cycle of decorating the kitchen over and again, one of the last jobs he was doing prior to the deaths of his family.
Seeing the state Fineman is in, Johnson persuades him to see a therapist (Liv Tyler) but she doesn't get very far helping him to address the past. Fineman has pushed everyone away including his in-laws who care deeply for him but rather than let them share in the grief they all know so well, Fineman is dismissive and even abusive to them. With therapy struggling to make a breakthrough the film culminates in a court hearing where a case is put forward for Fineman to be committed to a mental asylum. The lawyer for the prosecution is amongst the cruellest you will ever witness in history and the sick level he stoops to in search of a victory is utterly disgusting.
Reign Over Me is a moving and powerful film throughout. Cheadle and Sandler are brilliant throughout with the latter really impressing me with his versatility. The supporting cast are all good but you'll seldom notice them given the dominance of the two leads. The film conveys a very good message about those left behind after the 9/11 attacks. While revenge seemed to be one of the priorities for the US government there were many people left struggling with their grief. What amazes me is that people found the strength to go on and it speaks volumes for the resilience of many of us. Whether Johnson is able to save Fineman in the end is not for me to say but many will need a box of tissues to hand before the end of the film.
Reign Over Me is a very good and thought-provoking drama with two fantastic central performances from Cheadle and Sandler. Addressing a subject that is still fresh in our minds, the film is a good reminder of the need for us all to stick together and support each other. Although many people have bravely learned to get through the day in the aftermath of 9/11 it's fair to say that it's a moment in history that none of us will ever be able to fully lay to rest.
Verdict: 4/5
(Film source: reviewer's own copy)
Film Review: Reign Over Me | Thank you for reading Tweedle Dee and Tweedle Dave