Review of:
Pretty in Pink
Film:

Howard Deutch
---
Reviewed by:
David M. Brown
Rating:

3
On
June 13, 2013
Last modified:
June 13, 2013
---
Summary:
Pretty In Pink is worth a look if you're interesting in the Brat Pack films or want a nostalgic trip back to the eighties.
More Details
About Pretty in Pink (1986)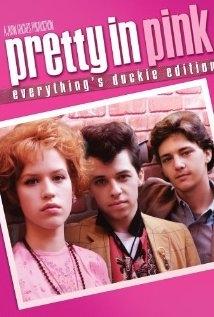 Andie Walsh (Molly Ringwald) is a poor girl with lots of spirit, who is obsessed with rich kid Blane McDonough (Andrew McCarthy). In the face of adversity, love cuts across the material divide, much to the disappointment of the amiably eccentric Ducky (John Cryer), who holds a torch for Andie. However, he becomes instrumental in bringing them back together when external pressures threaten their relationship. Teen movie produced by John Hughes, with a soundtrack including contributions from The Psychedelic Furs, Echo and the Bunnymen, New Order and The Smiths.
Starring: Molly Ringwald, Jon Cryer, Harry Dean Stanton, Annie Potts, James Spader
Directed by: Howard Deutch
Runtime: 96 minutes
Studio: Paramount
Amazon US
Amazon UK
IMDB
Review: Pretty in Pink 
The Eighties. It was a decade of bizarre hairstyles, weird, wonderful and cheesy music and, of course, Brat Pack films. I'm slowly ticking these off my list off must-see films and Howard Deutch's Pretty In Pink is next in line. Would it be the best of the bunch I've seen so far though?
Andie Walsh (Molly Ringwald) lives with her unemployed father Jack (Harry Dean Stanton) and is something of an outcast at school given her poor social background. At high school she can rely on her best friend Phil "Duckie" Dale (Jon Cryer) and at a music store she works at there is Iona (Annie Potts). When Andie falls for rich kid Blane McDonough (Andrew McCarthy) things become very complicated. Duckie is in love with Andie while Blane is also keen but given his rich background he swings on a pendulum between loyalty to his class and breaking the rules to be with Andie. Something has to give in this love triangle but how does it turn out?
Andie is hard working and independent, trying to get her father into work but though he claims to be earning he is really in mourning for his wife that left him. Andie juggles school and her work at the music store, enduring the criticisms of rich teenagers about the makeshift way she dresses, often having to design her own clothes from cheap stock. Andie has an unpleasant encounter with one of Blane's friends  Steff (James Spader) whose advances she rebuffs and makes herself even more unpopular in the process. Things seem to be on the up, however, when Blane asks Andie out, much to the disgust of Duckie who is both jealous and concerned for Andie and the two friends end up falling out.
Andie and Blane's first date is an uncomfortable one. He takes her to a party with a bunch of rick teenagers and she clearly feels maladjusted in the environment. Blane too leaves with her soon afterwards but while the party seemed like a bad move initially he impresses Andie by going wherever she wishes, not necessarily places the rich would venture. When Blane asks Andie to the prom she is delighted but Blane soon becomes hesitant especially with Steff whispering poisonous slander against Andie in his ear and reminding him of their social standing. Sadly, Blane listens to Steff's admonitions and the void between him and Andie begins to grow. Will Andie make it to the prom? Will she patch things up with Duckie? Will Blane see the error of his ways?
Pretty In Pink is a pretty good teen flick, addressing the teenage relationships and the gulf between the classes which many people deem important to this day. The cast are pretty good and although I had no issue with the characters or the storyline I just didn't feel that Pretty In Pink had the same charm as The Breakfast Club (1985) and Ferris Bueller's Day Off (1986). The love triangle is easily resolved and I know some fans were not necessarily happy with the final outcome, wishing it had gone another way.
Pretty In Pink is worth a look if you're interesting in the Brat Pack films or want a nostalgic trip back to the eighties. It's inferior to some of the other teen flicks of this decade but does have some memorable moments and good cast as well. Worth considering.
Verdict: 3/5
(Film source: reviewer's own copy)

About the Author:
I was born in Barnsley, South Yorkshire, England and have always been a bookworm and enjoyed creative writing at school. In 1999 I created the Elencheran Chronicles and have been writing ever since. My first novel, Fezariu's Epiphany, was published in May 2011. When not writing I'm a lover of films, games, books and blogging. I now live in Huddersfield, West Yorkshire, with my wife, Donna, and our six cats - Kain, Razz, Buggles, Charlie, Bilbo and Frodo.
David M. Brown – who has written 710 posts on Tweedle Dee and Tweedle Dave.
---