1Summary:
Ordinary Decent Criminal is an easy going, fun little crime caper with a terrific central performance from Spacey.
More DetailsAbout Ordinary Decent Criminal (2000)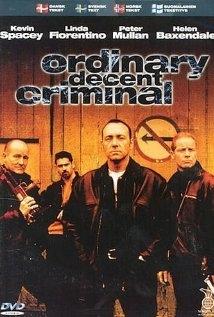 In modern day Ireland, notorious thief Michael Lynch (Kevin Spacey) has become a popular hero, robbing only the rich and continually eluding the clutches of the police. However, Michael begins to believe his own legend after stealing a valuable Caravaggio painting, and begins enjoying theft for its own sake. A couple of miscalculations result in Michael losing the faith of his gang, and for the first time it seems that the police stand a chance of bringing him to justice.
Starring: Kevin Spacey, Linda Fiorentino, Peter Mullan, Colin Farrell
Directed by: Thaddeus O'Sullivan
Runtime: 90 minutes
Studio: Icon Home Entertainment
Review: Ordinary Decent Criminal 
Thaddeus O'Sullivan's comedy is all about the kind of criminal that captures the hearts of the public. Michael Lynch (Kevin Spacey) has a wild lifestyle. He is married to two sisters Chrisitne (Linda Fiorentino) and Lisa (Helen Baxendale), has many children and loves a spot of crime. For Michael the joy is not in the money but in the prestige and glamour of being the criminal the police want to put away but simply can't. They drag Michael as far as court but he always worms his way back to freedom but isn't one to milk the moment, settling for pulling his trousers down and baring his backside to the police and the press mockingly.
Michael's gang aim bigger each time and successfully pull off the capture of a painting by Caravaggio from an art gallery in Dublin. The intention is to sell the painting to a contact in Amsterdam who turns out to be undercover. Michael sniffs out the danger before the police can strike but he is left lumbered with a painting he cannot easily sell and the Gardai, led by Noel Quigley (Stephen Dillane) begin to apply the pressure. Worse comes when a member of the IRA demands the money from one of Michael's successful heists that he had been planning. Michael's gang grow nervous as the net closes in but does our cunning gang leader have a plan?
It was quite a surprise to hear Kevin Spacey sporting an Irish accent but he handles it quite well. A colourful cast provide great support in this fun-filled crime story of the elusive Michael Lynch who has some fantastic means of outfoxing his pursuers. The ending may be a little predictable but it still makes for a satisfying denouement in a film that is heavy on the laughs and has such a familiar cast that I found myself frequently saying, "I've seen them before" whenever a new character was introduced. Even Mr O'Reilly from Fawlty Towers makes an appearance so keep an eye out for him. He isn't making a mess of a hotel in this one though.
Ordinary Decent Criminal is an easy going, fun little crime caper with a terrific central performance from Spacey. An amusing script and some great set-pieces make this one well worth your time. In terms of Spacey films this is no American Beauty or The Usual Suspects but fan or not it's worth a look.
Verdict: 4/5
(Film source: reviewer's own copy)