About Once (2006)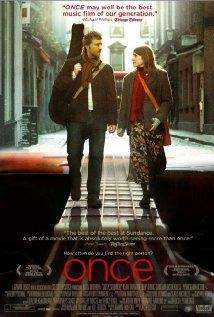 Inspirational drama about two kindred spirits who find each other on the bustling streets of Dublin. One (Glen Hansard) is a street musician who lacks the confidence to perform his own songs. The other is a young mother (Marketa Irglova) trying to find her way in a strange new town. As their lives intertwine, they discover each other's talents and push one another to realize what each had only dreamt about before.
Starring: Glen Hansard, Markéta Irglová, Senan Haugh, Leslie Murphy (II), Danuse Ktrestova
Directed by: John Carney
Runtime: 85 minutes
Studio: Fox Searchlight
Amazon US
Amazon UK
IMDB
Review: Once
Glen Hansard is the thirty something Guy who spends his free time busking on the streets of Dublin. One day he meets a Czech Girl (Marketa Irglova) and the couple form a friendship that has a major impact on both their lives. The relationship begins innocently enough with the Girl learning that the Guy's father runs a vacuum cleaner repair service. She has a vacuum cleaner in need of repair and the Guy is happy to help her out. Meeting the next day they end up in a music shop where the Girl plays on the piano while the Guy plays guitar and together they sing the film's wonderful and Oscar winning signature song - Falling Slowly. 
The film follows this blossoming friendship as the Guy and the Girl compose music together. They each meet their families and come to enjoy every minute together, the glimmer of romance seemingly growing ever brighter on the horizon. The Guy is encouraged to not only record his music but to head to London to win back his ex-girlfriend who many of his songs are about. What is the Guy to do? Does he head for London alone or does he try to convince the Girl to go with him? Will the clearly mutual affection they have for one another lead to anything?
I love my films and my music, and 
Once 
has both in abundance. After hearing the Guy belt out a few tunes on the street we are given the privilege of hearing 
Falling Slowly
as the Guy and the Girl join forces and it's so uplifting to see these two creative souls finding one another. Both professional musicians rather than actors Hansard and Irglova deliver fantastic performances and the chemistry between them is fantastic, ultimately leading to a brief romance in real life. The ending is suitably apt, not resorting to a simple everything falls into place nicely Hollywood denouement but a more realistic turn. Things are looking up for the couple but not all their dreams are fulfilled.
Once is a beautifully tender and moving drama where the power of music unites two lost souls on the streets of Dublin. With two memorable performances from the two leads and an exquisite soundtrack as well, this is a simple story of friendship, love and music, but it's an exhilarating experience throughout.
Verdict: 5/5
(Film source: reviewer's own copy)

About the Author:
I was born in Barnsley, South Yorkshire, England and have always been a bookworm and enjoyed creative writing at school. In 1999 I created the Elencheran Chronicles and have been writing ever since. My first novel, Fezariu's Epiphany, was published in May 2011. When not writing I'm a lover of films, games, books and blogging. I now live in Huddersfield, West Yorkshire, with my wife, Donna, and our six cats - Kain, Razz, Buggles, Charlie, Bilbo and Frodo.
David M. Brown – who has written 844 posts on Tweedle Dee and Tweedle Dave.
---