About Morning Glory (2010)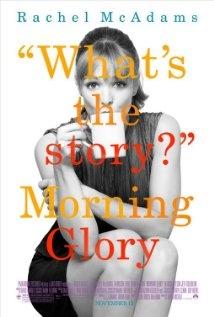 Rachel McAdams, Harrison Ford, Diane Keaton and Jeff Goldblum star in this comedy set in the world of television production, penned by 'The Devil Wears Prada' screenwriter Aline Brosh McKenna. Becky Fuller (McAdams) is a sparky, ambitious young television producer who spies an opportunity to claw her way up the career ladder when she is offered a job on 'Daybreak', the worst-performing morning chat show in the ratings. Her decision to hire veteran newscaster Mike Pomeroy (Ford) to host the show meets with scepticism from network executive Jerry (Goldblum) and co-host Colleen Peck (Keaton), and with little enthusiasm from Pomeroy himself, who is obliged by his contract to take this less-than-promising gig. Can Becky overcome the poor ratings and in-fighting to bring the team together and transform the show into something to be proud of?
Starring: Rachel McAdams, Harrison Ford, Diane Keaton
Directed by: Roger Michell
Runtime: 107 minutes
Studio: Paramount
Amazon US
Amazon UK
IMDB
Review: Morning Glory
Becky Fuller (Rachel McAdams) is a workaholic on Good Morning New Jersey but ends up losing her job and seemingly her dream of one day working on the Today show. After firing off multiple resumes to the same companies she lands a job as an executive producer at Day Break and is charged by Jerry Barnes (Jeff Goldblum) to improve the show's ratings or the plug will be pulled and she'll be out of work. Becky has something of a masterstroke when she convinces her hero, Mike Pomeroy (Harrison Ford), to co-host the show with regular Colleen Peck (Diane Keaton) who has seen off numerous fellow hosts and executive producers. Becky has to somehow engineer a way for Mike and Colleen to work together which is far from easy.
A veteran in news, Mike is only interested in serious stories so when he finds that Day Break is somewhat lighthearted he struggles to settle in. Colleen doesn't suffer fools gladly and the two hosts soon clash, especially when it comes to saying goodbye at the end of each show. While Becky has to mediate between the two hosts, she has to get the ratings up which seems an impossible task at the outset. Married to her work, Becky finds the unexpected prospect of romance with Adam Bennett (Patrick Wilson), a fellow producer who becomes increasingly frustrated with Becky for not leaving her work at the front door when she gets home. Can Becky and Adam find a future together? Will Mike and Colleen ever stop fighting? Will Day Break be saved?
Morning Glory 
boasts an impressive cast with veterans such as Ford, Keaton and Goldblum all a pleasure to watch. Ford, in particular, is great as the disgruntled Mike who you'll grow increasingly frustrated with. The romance in the film is a weak point really. Though it takes second place to Becky's challenge of saving 
Day Break
, it is one that's easily resolved and once done so it's quickly forgotten. The focal point of the film is the lessons that Mike has for Becky and it is these that resonate with you after the conclusion. The ending is somewhat predictable but a good cast still make this one a fun venture.
Morning Glory is a pretty good comedy with the highlight being the memorable actors and actresses on show. A weak romance plot hinders the story somewhat but thankfully this takes a back seat to the competitive world of television ratings. Ford was the undoubted highlight for me here, stealing the film without even seeming to try.
Verdict: 3/5
(Film source: reviewer's own copy)

About the Author:
I was born in Barnsley, South Yorkshire, England and have always been a bookworm and enjoyed creative writing at school. In 1999 I created the Elencheran Chronicles and have been writing ever since. My first novel, Fezariu's Epiphany, was published in May 2011. When not writing I'm a lover of films, games, books and blogging. I now live in Huddersfield, West Yorkshire, with my wife, Donna, and our six cats - Kain, Razz, Buggles, Charlie, Bilbo and Frodo.
David M. Brown – who has written 790 posts on Tweedle Dee and Tweedle Dave.
---