About Moonstruck (1987)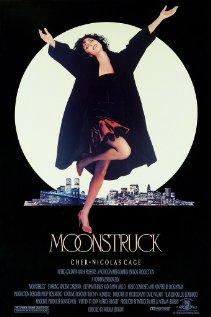 Fall under the delightful spell of Moonstruck, the mesmerizing romantic comedy from director Norman Jewison (Fiddler on the Roof) and Oscar winner John Patrick Shanley. Academy Award winners Cher, Nicolas Cage and Olympia Dukakis excel in this explosively funny tale which also features flawless performances by Danny Aiello, Vincent Gardenia and Frasier's John Mahoney. Cher is "devastatingly funny, sinuous and beautiful" (Pauline Kael) as Loretta, an unlucky in love Italian widow who finds romance through the intervention of the Manhattan moon. With her wedding to a close friend just weeks away, she meets and falls hopelessly in love with his younger brother (Cage)! Her dilemma and her equally passionate and hilariously eccentric family make for an unforgettable film you'll find "beguiling" (Time), "enchanting" (Newsweek) and "irresistible" ("Today Show").
Starring: Cher, Nicolas Cage, Olympia Dukakis, Danny Aiello, Vincent Gardenia
Directed by: Norman Jewison
Runtime: 102 minutes
Studio: MGM
Review: Moonstruck
This Oscar-winning comedy stars Cher as Loretta Castorini, an Italian American widow, who lives with her parents Cosmo (Vincent Gardenia) and Rose (Olympia Dukakis). At the outset, Loretta's boyfriend Johnny Cammareri (Danny Aiello) proposes to her and though she accepts she wants Johnny to propose properly, on one knee, and is adamant there will be a proper wedding as well. Loretta believes bad luck caused her first marriage to end in her husband's tragic death and this was due to them not having a proper wedding. No sooner has Johnny proposed than he has to return to Sicily to see his dying mother. He beseeches Loretta to seek out his brother Ronny (Nicolas Cage) and make sure he comes to the wedding. This doesn't turn out to be as straightforward as Loretta hopes.
When Loretta goes to meet Ronny we are given a tragic story by Johnny's younger brother about why the two of them hate one another. Ronny was careless one day at the bakery he works at, losing his hand in a slicer, but he blames Johnny for distracting him! Loretta cannot believe it but despite Ronny's reasoning the two end up falling for another! Loretta realises it is a mistake but Ronny has found a new purpose in life and wants to be with her. Will Loretta be honest with Johnny when he returns?
The film also focuses on Loretta's parents with Cosmo having an affair while Rose is tempted down the same path at one point when she discovers her husband's infidelity. The rest of Loretta's family and friends are a great bunch including her grandfather who heads out late at night with a pack of dogs for company. Things become more complicated when Loretta and Cosmo bump into each other one night when they are out with their respective flings. Something has to give and it does so in a frantic but fantastic conclusion where all cards end up on the table.
Moonstruck is an amusing comedy with some great characters. Cher, Cage, Dukakis, Gardenia and Aiello are all great in the film and there is even an early appearance from Frasier's dad in here as well but no Eddie sadly! Well received at the Academy Awards, Moonstruck still has a lot to offer 25 years later.
Verdict: 4/5
(Film source: reviewer's own copy)
Film Review: Moonstruck | Thank you for reading Tweedle Dee and Tweedle Dave