About Martyrs (2008)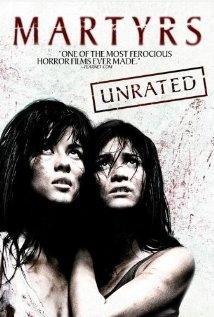 Lucie, a little 10-year old girl, disappears and is discovered a few months later wandering along the side of a road. The reason for her abduction remains a mystery. Traumatized and mute, she is put in a hospital where she is befriended by Anna, a girl of her own age. 15 years later and somebody rings the doorbell of an ordinary family home. A man opens the door to find Lucie standing there with a shotgun. Convinced she has found her tormentor, she pulls the trigger.
Starring: Catherine Begin, Robert Toupin, Morjana Alaoui, Mylene Jampanoi
Directed by: Pascal Laugier
Runtime: 100 minutes
Studio: The Weinstein Company
Amazon US
Amazon UK
IMDB
Review: Martyrs
Pascal Laugier's gritty horror begins with the escape of 10 year old Lucie from a building where she has been subjected to some horrific abuse along with other children held prisoner. Placed in an orphanage, Lucie befriends Anna who learns that Lucie is haunted by what looks like a severely mutilated creature that inflicts severe cuts and beatings on the young girl. The story moves on 15 years where Lucie (Mylene Jampanoi) turns up at the remote residence of a couple and their two teenage children. This happy family idyll is ripped apart by Lucie who arrives armed with a shotgun and murders the entire family before contacting Anna (Morjana Alaoui) with the assurance that she has located the very people that abused her years before.
When Anna finds Lucie she discovers her friend is still at the mercy of the creature that is terrorising her though Lucie is adamant that her suffering should end now she has sought revenge for the past. Clearly the creature that pursues her is linked to Lucie's horrific childhood but only later do we gain a full insight into this. Anna is initially skeptical whether Lucie has murdered the right people but as the story develops she is introduced to a dark and violent world of abuse and torture, administered by a group of people in search of something truly unique.
Very much a film of two halves, 
Martyrs 
focuses on both Lucie and Anna at the outset but in the second half it is more about Anna. For me the first half is much better with Lucie seeking a violent revenge for what was done to her when she was just a girl. As the subject matter already suggests, 
Martyrs 
is a brutal and extremely violent film where torture has been inflicted on some very unfortunate girls and young women. The reasons behind such acts become clearer as we move towards the denouement but even that twist in the plot doesn't elevate this enough into genius territory. This is a film that will be remembered more for the violence as opposed to the story.
Martyrs begins well but loses its way in the second half. Uncompromising in its depiction of abuse and violence, this is not a film that will appeal to a wide audience. Although I have come across more extreme films than this one, I wouldn't recommend this for the faint-hearted. A better thought out second half could have made this one memorable but in the end its more about disturbing the audience than giving us a journey to be a part of.
Verdict: 2/5
(Film source: reviewer's own copy)

About the Author:
I was born in Barnsley, South Yorkshire, England and have always been a bookworm and enjoyed creative writing at school. In 1999 I created the Elencheran Chronicles and have been writing ever since. My first novel, Fezariu's Epiphany, was published in May 2011. When not writing I'm a lover of films, games, books and blogging. I now live in Huddersfield, West Yorkshire, with my wife, Donna, and our six cats - Kain, Razz, Buggles, Charlie, Bilbo and Frodo.
David M. Brown – who has written 814 posts on Tweedle Dee and Tweedle Dave.
---