Summary:
Margin Call is a well-acted and gripping drama of one investment bank and the frightening depths they have to plunge to survive a financial crisis of their own making.
More DetailsAbout Margin Call (2011)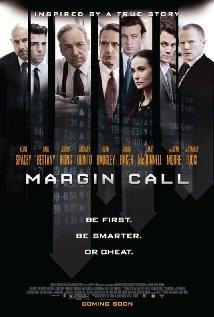 Set in the high-stakes world of the financial industry, Margin Call is an entangling Academy Award® nominated thriller involving the key players at an investment firm during one perilous 24-hour period in the early stages of the 2008 financial crisis. When an entry-level analyst unlocks information that could prove to be the downfall of the firm, a roller-coaster ride ensues as decisions both financial and moral, catapult the lives of all involved to the brink of disaster.
Propelled by a stellar cast that includes two-time Oscar-winner Kevin Spacey, Paul Bettany, Oscar-winner Jeremy Irons, Zachary Quinto, Penn Badgley, Simon Baker, two-time Oscar-nominee Mary McDonnell, with Demi Moore, and Oscar-nominee Stanley Tucci, writer/director J.C. Chandor's enthralling first feature is a stark and bravely authentic portrayal of the financial industry and its denizens as they confront the decisions that shape our global future.
Starring: Kevin Spacey, Paul Bettany, Jeremy Irons, Demi Moore, Stanley Tucci
Directed by: J.C. Chandor
Runtime: 107 minutes
Studio: Paramount Home Entertainment
Amazon USAmazon UKIMDB
Review: Margin Call 
J.C. Chandor's drama depicts the start of the financial crisis of 2007-8 which rocked the world. A Wall Street investment bank experiences a day of mass lay-offs with one of the key figures being Eric Dale (Stanley Tucci). Before he leaves, Eric gives a USB stick to Peter Sullivan (Zachary Quinto) and warns him to be careful. While Peter's colleagues Seth Bregman (Penn Badgley) and Will Emerson (Paul Bettany) head out for drinks, Peter stays late and works on Eric's project. He immediately calls Will and Seth back to the office and reveals that Eric has stumbled on a crisis within the firm. Many of the bank's mortgage backed securities are no longer an asset but a ticking time bomb with just a 25% reduction potentially costing the bank everything.
The crisis Eric tried to solve but Peter finally discovers gathers pace throughout the night. After Will and Seth are called back to the office, they get floor head Sam Rogers (Kevin Spacey) to also return. When he realises the extent of the problem it is time to call in the big guns. Division head Jared Cohen (Simon Baker), Sarah Robertson (Demi Moore) and CEO John Tuld (Jeremy Irons) gather for a meeting and a solution is needed within 24 hours. It is agreed that the volatile securities need to be sold without any trading which the company specialises in. Losses for the company cannot be avoided but their actions in offloading these securities to other companies could bring ruin unto them instead. After some intense meetings it is agreed that the securities will be sold and that the staff charged with the task will effectively be serving their notices over the next working day. Can the bank clear the securities or will their plan be realised too early and them left in financial ruin?
I'm no expert on finance so not all of this film was fully within my grasp but I was able to get the overall idea of the crisis that the investment bank finds itself in. This is a tense and gripping film covering a 36 hour period as a handful of staff work through the night in searching for a solution to the crisis and then having to resort to measures that will sever their ties with every other company in the financial sector. This is a staggering reminder of the hard times the global economy can soon fall upon and how today many countries are either still in recession or still trying to find their feet. A very good cast handle a compelling script well and the only downside for me was the abruptness of the ending. It would have been interesting to see events unfold in the days that followed.
Margin Call is a well-acted and gripping drama of one investment bank and the frightening depths they have to plunge to survive a financial crisis of their own making. That such small decisions can have such massive repercussions would be enough to prevent anyone in this sector getting any sleep.
Verdict: 4/5
(Film source: reviewer's own copy)