Review of: Leatherheads (2008)
Film:

George Clooney
---
Reviewed by: David M. Brown
Rating:

4
On June 6, 2013Last modified:June 6, 2013
---
Summary:
Leatherheads is an amusing sport comedy with a fantastic turn from Clooney who demonstrates his versatility once more.
More DetailsAbout Leatherheads (2008)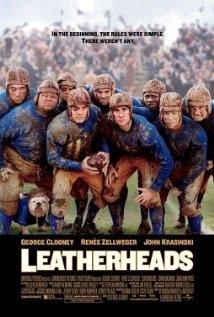 Comedy, in the 'screwball' style of the 1930s, directed by and starring George Clooney. Set in the 1920s, the film stars Clooney as Dodge Connolly, a brazen yet charming American Football captain who is determined to guide his team to glory. However, his plans suffer a major blow when the players lose their sponsor and the future of the entire league is subsequently thrown into doubt. But when Dodge convinces college football star Carter Rutherford (John Krasinski) to join the team, he hopes that the struggling new sport will finally capture the nation's attention. Carter is a war hero who single-handedly forced a group of German soldiers to surrender in the First World War. His good looks and incredible speed on the field make him seem almost too good to be true, and reporter Lexie Littleton (Renee Zellweger) sets out to prove just that.
Starring: George Clooney, Renee Zellweger, John Krasinski, Jonathan Pryce, Stephen Root
Directed by: George Clooney
Runtime: 114 minutes
Studio: Universal Studios
Amazon USAmazon UKIMDB
Review: Leatherheads 
George Clooney's film looks at the early days of American football minus the padding the players have today. Set in 1925 the film focuses on Jimmy "Dodge" Connelly (Clooney) who is Captain of the Duluth Bulldogs but sees his team disband due to lack of funding and even the league is in danger of falling apart. Dodge turns to war hero and rising football star Carter "the Bullet" Rutherford (John Krasinski) to join the Bulldogs and inject new life into the football league. It works. However, there is trouble afoot. Journalist Lexie Littleton is charged by the Chicago Tribune with investigating the tales of Rutherford's heroism in war where he single-handedly captured a large group of German soldiers and expose him as a fraud. Both Dodge and Rutherford fall for Lexie and she in turn is drawn to them but she has a story to publish that will rock the footballing world.
American football is played at the outset with no rules and is brutal to say the least. Dodge is a veteran of the sport but has to turn to Rutherford to save the game. With The Bullet in his team, Dodge captains the Bulldogs to victory after victory and the fans begin flocking to the stadiums to watch the games. When Lexie appears both Dodge and Rutherford are distracted by her and things become complicated when Rutherford confides in Lexie that he became a war hero by accident and through a lot of luck. Lexie goes ahead and publishes the truth which shocks football fans across the nation but Lexie doesn't count on the slimy manager of Rutherford, CC (Jonathan Pryce), who manages to turn the tables on her. The future is far from secure though with a love triangle to resolve and a new sporting commissioner on the scene with a set of rules to introduce to football.
Clooney's directorial effort is an amusing one and is well scripted with some delightful exchanges between him and Zellweger. The sight of Clooney covered in mud and brawling on a football field or picking fights in the nearest bar will raise many smiles. The ending may be somewhat predictable in how the love triangle and the truth about Rutherford is resolved but a good cast handle proceedings well and the experience is never a dull one.
Leatherheads is an amusing sport comedy with a fantastic turn from Clooney who demonstrates his versatility once more. I'm not usually a fan of Zellweger but felt she handled her role in this one very well. I used to think American footballers were not as tough as rugby players who manage without padding but after watching Leatherheads I am relieved the players do have some protection on the field today.
Verdict: 4/5
(Film source: reviewer's own copy)

About the Author:
I was born in Barnsley, South Yorkshire, England and have always been a bookworm and enjoyed creative writing at school. In 1999 I created the Elencheran Chronicles and have been writing ever since. My first novel, Fezariu's Epiphany, was published in May 2011. When not writing I'm a lover of films, games, books and blogging. I now live in Huddersfield, West Yorkshire, with my wife, Donna, and our six cats - Kain, Razz, Buggles, Charlie, Bilbo and Frodo.
David M. Brown – who has written 697 posts on Tweedle Dee and Tweedle Dave.