About Lantana (2001)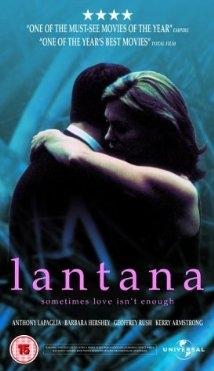 In present-day Sydney, Sonja Zat (Kerry Armstrong) visits her therapist Valerie (Barbara Hershey) and expresses concerns that her detective husband Leon (Anthony LaPaglia) is having an affair. For her part, Valerie also has some worries about her own husband John (Geoffrey Rush), and begins to suspect that he is having a gay affair with a young patient of hers. Meanwhile, Jane (Rachael Blake), a young woman who actually has begun a recent affair with Leon, becomes suspicious of her neighbor Nik's strange behavior.
Starring: Anthony LaPaglia, Geoffrey Rush, Barbara Hershey, Kerry Armstrong, Rachael Blake
Directed by: Ray Lawrence
Runtime: 121 minutes
Studio: Lions Gate
Amazon US
Amazon UK
IMDB
Review: Lantana
Ray Lawrence's thriller focuses on three couples and how their lives are connected by a disappearance. Leon (Anthony LaPaglia) is a police officer whose marriage to Sonja (Kerry Armstrong) is somewhat on the rocks. They love their two sons but Leon is having an affair with Jane (Rachel Blake) whose husband has moved out due to their own problems. Leon is struggling with emotional issues, particularly anger, but doesn't realize his wife has sought help of her own from therapist, Valerie (Barbara Hershey), who has published a book about her young daughter's murder. Valerie's marriage to John (Geoffrey Rush) is also struggling, the two of them having never recovered from their daughter's death. Valerie suspects her husband may be cheating and, though reluctantly, she has begun to link her husband to a patient, Patrick Phelan (Peter Phelps), who talks of an affair he is having with a married man. Quite a complex web we have weaved for ourselves.
When Jane becomes more insistent on seeing Leon, he breaks off their affair and looks to repair his own marriage. He is soon investigating the disappearance of a woman who turns out to be Valerie. We see Valerie crash her car in the middle of the night and although she calls John he doesn't respond. The last we know of Valerie is a car slowing which she approaches for help. Is she still alive? If not, who was the last person to see her? As Leon investigates the case he is struck by numerous revelations, the first that Sonya was a patient of Valeries' and secondly he ends up visiting Jane's residence. Jane has reported the unusual activity of a neighbour, Nik (Vince Colosimo), who returned home late the night of Valerie's disappearance, clearly agitated, before throwing an item into the bushes. Jane has retrieved the item and it turns out to be Valerie's shoe. Has Leon found the killer? What follows is a difficult resolution of sorts for the three marriages at the heart of this story but will anyone come out unscathed?
Lantana
is an intriguing thriller from start to finish. It is also a fascinating study of three marriages all faced with their own difficulties. Leon and Sonja's marriage is crumbling through loss of affection and the inability simply to talk. Valerie and John's is the saddest, near destroyed by their daughter's death. Jane's is seemingly already over and she enthusiastically pursues an affair with Leon and is reluctant to let go when he decides to try and make his marriage work. The way the characters are all connected on an intricate chain with Valerie's disappearance at the center is well done. Jane's reporting of her neighbor as a suspect seems to give a clear answer to the mystery but nothing is that straightforward and the conclusion is a surprising one.
Lantana is a complex web that encompasses three fragmented marriages and through the disappearance of one woman a catalyst is released to give these struggling couples the resolutions that they all desperately need. As with Lawrence's Jindabyne, the narrative rests on a knife edge at the very end, the suggestion of a positive outcome for some of the characters involved but by no means a certainty.
Verdict: 4/5
(Film source: reviewer's own copy)

About the Author:
I was born in Barnsley, South Yorkshire, England and have always been a bookworm and enjoyed creative writing at school. In 1999 I created the Elencheran Chronicles and have been writing ever since. My first novel, Fezariu's Epiphany, was published in May 2011. When not writing I'm a lover of films, games, books and blogging. I now live in Huddersfield, West Yorkshire, with my wife, Donna, and our six cats - Kain, Razz, Buggles, Charlie, Bilbo and Frodo.
David M. Brown – who has written 823 posts on Tweedle Dee and Tweedle Dave.
---