About La Strada (1954)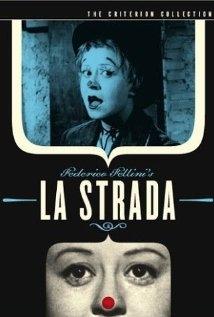 One of Federico Fellini's greatest films, some critics say his masterpiece, made in 1954 in Black & White and presented in this release with an enclosed 16 page booklet which includes interviews with both Fellini and his wife and the film's co-star; Giulietta Masina (Juliet of the Spirits; Ginger & Fred). The story is very simple; a carefree urchin-like young girl, Gelsomina (Masina) is sold to a brutish traveling strongman, Zampano (Anthony Quinn – Requiem for a Heavyweight; Guns of Navarone; Zorba the Greek; The Greek Tycoon) who entertains the village crowds by breaking a chain around his chest. They travel from place to place, she playing a drum roll as part of the show, he abusing her both physically and emotionally, until the fateful day when they join up with a traveling circus and become acaquainted with Il Matto (Richard Basehart – Decision before Dawn; Voyage to the Bottom of the Sea; Chato's Land).
Starring: Anthony Quinn, Giulietta Masina, Richard Basehart, Aldo Silvani, Marcella Rovere
Directed by: Federico Fellini
Runtime: 108 minutes
Studio: Criterion
Review: La Strada 
My second experience of Fellini's work tells the story of Gelsomina (Giulietta Masina) who is sold to a traveling entertainer Zampano (Anthony Quinn) at the outset and endures life on the road. Gelsomina's sister, Rosa, has died while traveling with Zampano and he needs an assistant to continue his act. Traveling from town to town, Zampano performs an act where he ties a chain around his chest and breaks it with his muscle power alone. Gelsomina plays drums, dances and paints herself like a clown to the delight of the crowd.
Though Gelsomina earns a living with Zampano, he is a brute and frequently cruel, lashing her in the early stages until she has perfected her drumming. Zampano also seeks out local women between acts with no care or consideration for Gelsomina who clearly comes to care for him. After running away from Zampano, Gelsomina meets another entertainer known as the Fool (Richard Basehart) and there seems to be mutual affection between them. However, Zampano soon returns and it turns out the two entertainers have a difficult history and fierce rivalry. What will become of Gelsomina?
La Strada is beautifully filmed from start to finish. Quinn is excellent as the tough Zampano but it is Masina who is the most striking on screen as the fragile Gelsomina. The innocent girl at the start of the film is gradually wilted away by the demands of life on the road and the relentlessness of Zampano who gives no quarter. Tragedy is inevitable and when it comes the film takes a dark turn with no happy resolutions for any of the characters involved.
I enjoyed this more than 8½ and am not surprised it bagged an Oscar for Best Foreign Film. Fellini's La Strada is a case of a simple story that is beautifully executed with a great cast and choice of locations. Life on the road is depicted as hard and uncompromising and very aptly La Strada has no happy endings.
Verdict: 5/5
(Film source: reviewer's own copy)
Film Review: La Strada | Thank you for reading Tweedle Dee and Tweedle Dave