Review of:
Idle Hands (1999)
Film:

Rodman Flender
---
Reviewed by:
David M. Brown
Rating:

3
On
June 12, 2013
Last modified:
June 12, 2013
---
Summary:
Idle Hands is a silly but amusing horror/comedy with some fun characters and plenty of blood and gore.
More Details
About Idle Hands (1999)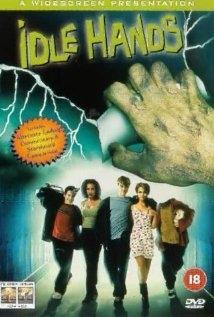 The devil will find work for idle hands to do…but what happens when he chooses the laziest teen slacker in the world to do his dirty work? Anton Tobias (Devon Sawa, Wild America) is a channel-surfing, junk-food munching, couch potato burn-out who can't control the murderous impulses of his recently possessed hand. With the help of his zombiefied buddies, Mick (Seth Green, Austin Powers: The Spy Who Shagged Me) and Pnub (Elden Henson, The Mighty), Anton's got to stop the rampaging devil appendage before it takes total control of his life and ruins any chance he has with class hottie Molly (Jessica Alba, Never Been Kissed). Vivica A. Fox (Independence Day) and Jack Noseworthy (The Brady Bunch Movie) co-star in this wickedly funny horror comedy.
Starring: Devon Sawa, Seth Green, Jessica Alba
Directed by: Rodman Flender
Runtime: 90 minutes
Studio: Columbia Tristar Home Entertainment
Amazon US
Amazon UK
IMDB
Review: Idle Hands
Rodman Flender's Idle Hands tells the story of layabout teenager Anton Tobias (Devon Sawa). At the outset his parents are both murdered but their son is so often high on drugs that he doesn't notice. After being informed by his best friends Pnub (Elden Henson) and Mick (Seth Green) of murders in town, Anton finds that his right hand is possessed and beyond his control. Not only does he kill his two friends, he hurls the family cat out of the window and inadvertently approaches the girl across the street, Molly (Jessica Alba), who takes kindly to being groped by the possessed hand, seeing it as Anton being unusually confident and assertive. Away from romance, Anton has the painful task of burying his friends but they return from the grave, Mick with a bottle in his head and Pnub with his head severed from its body but both very much alive. The two friends stick by their friend and try to help him out of his predicament.
All hope is not lost for Anton. A high priestess named Debi (Vivica A. Fox) is in pursuit and when she eventually catches up with Anton she is horrified to find he has removed his hand. The liberated hand remains alive and proceeds to go about town killing everyone in sight. Anton, Pnub and Mick must join with Debi in stopping the evil. This leads to some ludicrous dialogue, set-pieces and even a peformance from The Offspring where lead singer Dexter Holland doesn't fare so well when the possessed hand grabs hold of him! As for Anton's undead friends, well, as it's Halloween people assume they're in costume and both go down a storm.
I thought
Idle Hands
would be utterly dreadful when I first started it but it actually turned out to be very funny. It's not a spectacular horror comedy but it has some memorable moments. Sawa is decent in the lead but I felt both Green and Henson outshone him somewhat as his two undead friends. Fans of Jessica Alba will undoubtedly enjoy this early appearance from her but if all you're looking for is some cheap laughs, a bit of gore all played out with a live performance from The Offspring then you've come to the right place.
Idle Hands is a silly but amusing horror/comedy with some fun characters and plenty of blood and gore. Falling short of horror comedies such as Zombieland and Shaun of the Dead, Idle Hands was still probably unfairly treated at the box office. It isn't brilliant but it's worth a look.
Verdict: 3/5
(Film source: reviewer's own copy)

About the Author:
I was born in Barnsley, South Yorkshire, England and have always been a bookworm and enjoyed creative writing at school. In 1999 I created the Elencheran Chronicles and have been writing ever since. My first novel, Fezariu's Epiphany, was published in May 2011. When not writing I'm a lover of films, games, books and blogging. I now live in Huddersfield, West Yorkshire, with my wife, Donna, and our six cats - Kain, Razz, Buggles, Charlie, Bilbo and Frodo.
David M. Brown – who has written 708 posts on Tweedle Dee and Tweedle Dave.
---