Summary:
Hydra is a pretty awful horror film with a less than convincing monster in the hydra which is put together with some truly appalling effects.
More DetailsAbout Hydra (2009)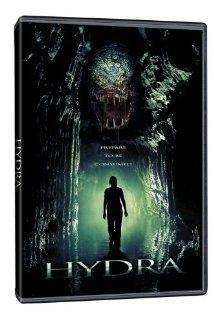 Former marine Tim Nolan has been kidnapped along with three exconvicts and forced to participate in a deadly game. Wealthy men have paid a fortune for the opportunity to hunt down men like him in the perfect place, a deserted island. However, this is no ordinary island it is home to Hydra the Beast. As the hunters track down their prey, the Hydra quickly turns hunter into hunted. With the island crumbling beneath him, Nolan finds himself in a race against time to stop the beast and get off the island alive.
Starring: Texas Battle, George Stults, Polly Shannon
Directed by: Andrew Prendergast
Runtime: 98 minutes
Studio: First Look Studios
Review:  Hydra
Andrew Prendergast's low budget horror begins with an expedition on a remote island led by Dr Valerie Cammon (Polly Shannon) who searching for lost artefacts from Greek myths. Her expedition hits a few difficulties when the group meet a giant hydra which proceeds to kill everyone except Valerie. A couple of months later a rich couple Vincent (Alex McArthur) and his younger, flirtatious wife Dixie (Jana Williams) are taking a group of millionaires to take part in a very special hunt that they have paid a large sum of money for. Four ex-convicts – Tim (George Stults), Gwen (Dawn Olivieri), Bob (James Wlcek) and Ronnie (Texas Battle) – have been taken prisoner and are to be the hunted on the island. They are giving a day's start and after that the millionaires are coming for them with the sole intention of killing them all.
Of the convicts it is Tim that is of particular interest. He seems to know the ship Captain (Michael Shamus Wiles) and Vincent is appalled to find his file of crimes is empty! The four convicts are sent onto the island and work together in preparing for the millionaires about to hunt them. Not only do the group run into Valerie who has survived alone for two months, they bump into the giant hydra which follows the Greek myth of growing two heads if one is either chopped or shot off. This makes killing the whole thing a little tricky but Valerie has the answers, she just needs to find an ancient relic.
Being made for TV and with a pitiful budget behind it, my hopes for Hydra were not high and my fears were quickly realised with the sight of the hydra. The effects are truly awful and I was embarrassed imagining the actors having to pretend they were being attack. Even that element isn't convincing. When it comes to killing the Hydra, the film has drifted slightly from Hercules' meeting with the hydra but that's just me being fussy. It astounds me that 50 years ago a far more convincing Hydra fought Jason in Jason and the Argonauts. Computer technology is great when used well, but then you get instances like Hydra.
Hydra is a pretty awful horror film with a less than convincing monster in the hydra which is put together with some truly appalling effects. The cast are not much better than the hydra and though the story attempts to relive one of Hercules' famous trials, it still lacks any depth or drama. If you're happy with a badly executed monster horror then this may be worth a look but otherwise I'd steer well clear.
Verdict: 1/5
(Film source: reviewer's own copy)

About the Author:
I was born in Barnsley, South Yorkshire, England and have always been a bookworm and enjoyed creative writing at school. In 1999 I created the Elencheran Chronicles and have been writing ever since. My first novel, Fezariu's Epiphany, was published in May 2011. When not writing I'm a lover of films, games, books and blogging. I now live in Huddersfield, West Yorkshire, with my wife, Donna, and our six cats - Kain, Razz, Buggles, Charlie, Bilbo and Frodo.
David M. Brown – who has written 732 posts on Tweedle Dee and Tweedle Dave.