About Headhunters (2011)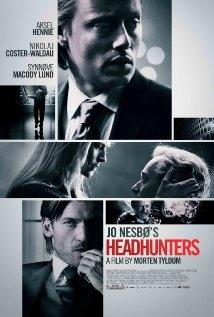 Roger Brown is successful, charismatic and always gets what he wants. By day he is an unrivalled corporate headhunter and husband to his beautiful wife Diana, but by night is a prolific art thief with a keen eye for great antiquities.
However, Roger's ambition soon gets the better of him as he is lured into a dangerous game of cat and mouse when he goes after the biggest heist of his life, only to discover his victim is also a skilled headhunter in the most literal sense.
Starring: Aksel Hennie, Nikolaj Coster-Waldau, Synnøve Macody Lund, Julie Ølgaard, Kyrre Haugen Sydness
Directed by: Morten Tyldum
Runtime: 100 minutes
Studio: Magnolia Home Entertainment
Amazon US
Amazon UK
IMDB
Review: Headhunters
Based on the novel by Jo Nesbo, Headhunters tells the story of a successful headhunter, Roger Brown (Aksel Hennie), in Norway who is married to Diana (Synnøve Macody Lund), a gallery owner. Roger has a lavish lifestyle and helps fund this by stealing paintings from clients and selling them off with the aid of his friend, Ove (Eivind Sander), who disables the security networks. When Roger's wife introduces him to Clas Greve (Nikolaj Coster-Waldau), a potential recruit for Pathfinder, the company that Roger sources employees for, he is intrigued to learn that Clas has a rare Rubens painting. With Ove's aid, Roger decides to steal the painting but his life is about to be turned upside down.
After stealing the painting from Clas, Roger is stunned to find his wife's phone in the unmade bed at Clas' home. He is horrified that Diana may be cheating on him even though Roger has no issue with having his own mistress, Lotte (Julie Ølgaard), until she insists that he meet her family! Roger doesn't have time to worry about marital problems when he discovers Ove in his garage having been poisoned by a syringe in the car seat that may have been meant for Roger. Roger initially believes Ove is dead and has to dump his body but when his friend revives, Roger's problems are only just beginning. It seems that Clas is not the fool that Roger assumed he was and what follows is a frantic game of cat and mouse.
Headhunters
begins well with the lavish lives of Roger and Diana but beneath the wealth is a marriage in trouble. Diana wants a baby but Roger is adamant that there will be no children. Once Roger is on the run, he is left to reassess his entire life if only he can survive. After the fascinating opening the film becomes a gripping chase thriller where Roger is left to question who can be trusted even those closest to him, including Diana. It seems many people mean him harm so can he outwit Clas? A great cast make this one a faithful and memorable adaptation of Nesbo's novel.
Headhunters is another example of how world cinema continues to give Hollywood a lesson in quality film making. A compelling story that is tense and well-acted throughout will hold your interest from start to finish. You'll be left to speculate how many people are plotting against Roger and will he survive to the end. Nesbo has many other novels out there so it will be interesting to see if we get more adaptations. I certainly hope so.
Verdict: 4/5
(Film source: reviewer's own copy)

About the Author:
I was born in Barnsley, South Yorkshire, England and have always been a bookworm and enjoyed creative writing at school. In 1999 I created the Elencheran Chronicles and have been writing ever since. My first novel, Fezariu's Epiphany, was published in May 2011. When not writing I'm a lover of films, games, books and blogging. I now live in Huddersfield, West Yorkshire, with my wife, Donna, and our six cats - Kain, Razz, Buggles, Charlie, Bilbo and Frodo.
David M. Brown – who has written 819 posts on Tweedle Dee and Tweedle Dave.
---