About Harry Brown (2009)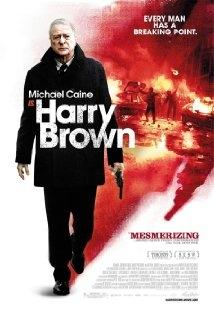 Two-time Academy Award winner and screen icon, Sir Michael Caine stars in the riveting and gritty action thriller HARRY BROWN, the story of one man's journey through a chaotic world where drugs are the currency and guns run the streets.
Modest law-abiding citizen, Harry Brown is forced to dispense his own brand of justice as he bids to clean up the run-down estate he calls home. Michael Caine gives the performance of his lifetime as the iconic Harry Brown. Barber's debut film is a gripping, violent thriller that'll 'make any Quentin Tarantino film seem like The Magic Roundabout' (Mail on Sunday).
Daniel Barber's first directorial feature is a shocking, brilliant and thought-provoking film which stars a strong supporting cast including Emily Mortimer (Shutter Island), Liam Cunningham (Hunger, The Wind That Shakes the Barely), and up-and-coming British talent like Ben Drew aka Plan B (Adulthood), Jack O'Connell (Eden Lake), Lee Oakes (Two Pints of Lager And A Packet Of Crisps), Joseph Gilgun (This Is England), Sean Harris (24 Hour Party People), David Bradley (Harry Potter, Hot Fuzz) and Iain Glen ("The Diary of Anne Frank" Kingdom of Heaven).
Starring: Michael Caine, Jamie Downey, Iain Glen, Raza Jaffrey, Amy Steel
Directed by: Daniel Barber
Runtime: 103 minutes
Studio: Sony Pictures Home Entertainment
Review: Harry Brown 
Let's face it the streets are not a safe place to be for long, especially at night. I'm not yet 30 but in my time growing up in the UK I feel that things have got worse. The idea of seeing gangs of youths is enough to intimidate me if I am alone so the thought of such encounters when I am old is even more terrifying. Daniel Barber's Harry Brown looks at the dark side of the UK's streets where gangs of youths reign and the locals, old and young, live in fear of them.
The film focuses on Harry Brown (Michael Caine), a former Royal Marine, now retired pensioner who lives on a mean council state with violent gangs. Harry's time is divided between playing chess against his good friend Leonard (David Bradley) and heading to the hospital to see his wife, Katherine. When Katherine dies, Harry is inconsolable but he has other things to worry about in the form of Leonard who is being terrorised by a gang and threatens to fight back. When Leonard is murdered, Harry's life changes and he decides to take the law into his own hands and hit back against the gangs in the neighbourhood.
Harry's fear of the gangs is evident at the start when he refuses to take a shortcut through an underpass as gangs often hang around there. Harry's choice to take the long route round on the way to the hospital costs him dearly as he finds his wife has died. Had he taken the shortcut he could have at least been by her side when she did pass away. Harry only has his friend Leonard left and the two friends spend their time playing chess at a local pub. Leonard reveals he is being victimised by one of the gangs with his flat nearly going up in flames at one point following an attack. Leonard reveals a bayonet to Harry and insists he will defend himself if he has to. When Harry is later visited by Detectives Framtpon (Emily Mortimer) and Hicock (Charlie Creed-Miles) it is with the news that Leonard has been murdered. A local gang, led by Noel Winters (Ben Drew) is responsible. The death of Leonard hits Harry hard and heading home one night he is attacked by one of Winters' gang whom he stabs in self-defence. Harry later learns from Detective Framtpon that Leonard's murderers may be able to plead manslaughter on the grounds of self-defence as Leonard was killed with his own bayonet! Such a revelation makes Harry snap.
Harry braves the streets and takes on the local gang. First he manages to obtain a gun from a drug dealer who is watching over an overdosed girl who is being used for sex and the filming of pornography. Harry immediately takes out the drug dealer when he refuses to call an ambulance for the girl. Instead Harry runs her to the hospital himself before making a quick exit. Fully armed, he immediately begins the systematic killing of members of Winters' gang with Winters himself the primary target but as is often the case he isn't the easiest leader to get to. Killing the youths is no easy task for an old man of course and Detective Frampton is on the trail as bodies begin to emerge. Harry's crusade is justified following the capture of one gang member, Marky (Jack O'Connell), who under interrogation reveals mobile phone footage of Leonard's murder which leaves no doubt that Harry's friend was attacked and brutally murdered despite his best efforts to defend himself. The question is can Harry complete his crusade before the law catches up with him?
This is a very hard-hitting film with some unpleasant moments but you will feel jubilation as Harry takes on the local gang. A fire fight in the underpass is a particular highlight but there is something of a twist waiting at the end as the net closes on Harry and in turn closes on Noel Winters. Caine is terrific in the lead as the pensioner who is pushed too far and draws on his former marine experience to take out some truly vile youths. Whether it ends on a happy note or sadly, I can't say, but this is worth watching despite some of the gritty content, it holds a mirror up to elements of societies throughout the world and I can't see the streets becoming safer any time soon no matter where you are.
Harry Brown is a well-crafted but unpleasant drama in places. The image of gangs beating people to the ground, simply because they try to protect themselves or their property, is made more terrible by the knowledge that it goes on every day throughout the world. Harry is the kind of hero we need more of, willing to stand up to these gangs but even he is on the wrong side of the law protecting himself in the manner he does. Often thought-provoking this is well worth a look.
Verdict: 4/5
(Film source: reviewer's own copy)
Film Review: Harry Brown | Thank you for reading Tweedle Dee and Tweedle Dave