About Good Morning, Vietnam (1987)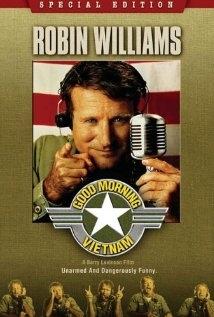 When the U.S. Army engages irreverent, nonconformist radio deejay Adrian Cronauer, it unleashes a secret, if unpredictable, weapon: laughter. Academy Award(R) winner Robin Williams (Best Supporting Actor, GOOD WILL HUNTING, 1997) shakes up 1965 Saigon in the role that garnered him his very first Oscar(R) nomination. Imported by the military to host an early a.m. radio show, Cronauer (Williams) blasts the formerly serene, sanitized airwaves with a constant barrage of rapid-fire humor and the hottest hits from back home. The G.I.s love him, but the top brass is up in arms. Riddled with sidesplitting comic salvos, bittersweet bombshells, and hot '60s rock 'n' roll, this landmark film chronicles one man's raucous Saigon adventures amidst a world gone mad.
Starring: Robin Williams, Forest Whitaker, Tung Thanh Tran, Chintara Sukapatana, Bruno Kirby
Directed by: Barry Levinson
Runtime: 121 minutes
Studio: Buena Vista Home Entertainment / Touchstone
Amazon US
Amazon UK
IMDB
Review: Good Morning, Vietnam
Robin William's won praise for his performance in this Vietnam movie as Adrian Cronauer who is sent from his station in Crete in 1965 to take up a DJ position in Saigon. As soon as Cronauer takes to the air he manages to annoy two of his superiors Second Lieutenant Steven Hauk (Bruno Kirby) and Sergeant Major Phillip Dickerson (J.T. Walsh) but wins the respect of colleagues such as Private First Class Edward Montesquieu Garlick (Forest Whitaker) as well as the U.S. soldiers stationed in Vietnam who adore the show and the light relief it offers from the early days of a war that would cause so much controversy and damage to the U.S. Cronauer faces a lot of opposition though, not just with regards to the music he can play and his level of humor but in censorship. News bulletins have to be vetted before they are read on air and the majority of text is removed from them, disguising the difficulties and erupting violence in Vietnam. It isn't long before Cronauer is rebelling.
Rather than focusing just on Cronauer in the radio booth, we see him head out into Saigon where he falls for a Vietnamese girl, Trinh (Chintara Sukapatana), and hijacks the English class where she is being taught. He educates the locals on American slang and mannerisms, winning their love and respect along the way. Cronauer also befriends Trinh's brother, Tuan (Tung Thanh Tran), who is protective of his sister but time spent with Cronauer settles any differences they have. Cronauer is exposed to the reality of what is happening in Vietnam with American soldiers forbidding locals from entering some establishments while a bombing in the city causes Cronauer to get himself suspended from the radio when he reports it without censorship. Hauk's attempts to replace Cronauer on the radio lead to a stream of complaints demanding that he be restored. Though Hauk and Dickerson have to relent they continue to find ways to remove the popular DJ.
Williams delivers a high energy and funny performance with many of his lines said to have been improvised. He is highly amusing on the radio but away from the airwaves Williams delivers a composed turn as Cronauer witnesses the dark side of Saigon and a later revelation leaves him utterly crushed. A good supporting cast complement Williams' dominant performance and although there are a lot of laughs to be had here, the film does not stray from addressing how serious and damaging war is on both sides. Aptly, there are no winners by the end and there is a feeling that the U.S. forces depicted here, so full of hope and confidence, are already feeling the strain of being so far from home.
Good Morning, Vietnam is a moving and funny war drama with a commanding performance from Robin Williams in the lead. His radio broadcasts offer a lot of light relief at the outset but in the second half the film becomes far grittier and this isn't better conveyed than in the character of Cronauer who arrives in Saigon with a smile and a spring in his step, but by the end he is left devastated and near silenced by what he has seen. The harsh realities of war are evident here and the ending is befitting not just the damage of Vietnam, but of all war.
Verdict: 4/5
(Film source: reviewer's own copy)

About the Author:
I was born in Barnsley, South Yorkshire, England and have always been a bookworm and enjoyed creative writing at school. In 1999 I created the Elencheran Chronicles and have been writing ever since. My first novel, Fezariu's Epiphany, was published in May 2011. When not writing I'm a lover of films, games, books and blogging. I now live in Huddersfield, West Yorkshire, with my wife, Donna, and our six cats - Kain, Razz, Buggles, Charlie, Bilbo and Frodo.
David M. Brown – who has written 820 posts on Tweedle Dee and Tweedle Dave.
---