About Good (2008)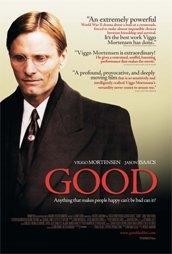 Political drama based on a stage play by C.P. Taylor set in Germany in the years leading up to World War II. Viggo Mortensen stars as literary professor John Halder. Halder is an essentially decent family man who becomes drawn into the ascent of national socialism after he writes a novel advocating compassionate euthanasia, which is subsequently seized upon by powerful politicians looking for propaganda to support their campaign.
Starring: Viggo Mortensen, Steven Mackintosh, Mark Strong, Gemma Jones, Anastasia Hille
Directed by: Vicente Amorim
Runtime: 96 minutes
Studio: National Entertainment Media
Amazon US
Amazon UK
IMDB
Review: Good
Set during the rise of Hitler and the Nazis in 1930s Germany, Good tells the story of John Halder (Viggo Mortensen) who is a German college professor, devoted husband and father. He is also a novelist who publishes a work of fiction that includes a defiant stance in favour of euthanasia. Halder's hectic life undergoes some big changes as German society is turned upside down by the Nazis. First, he leaves his family for a student Anne (Jodie Whittaker) and he then finds himself being courted by the Nazis who want him to join the party. Previously reluctant, Halder is now tempted with promises of an advancement in his career. The Nazis, it seems, are especially interested in his work on euthanasia.
While Good focuses on Halder's adaptation towards a new personal and working life, there is the complication of his life long friend, Maurice (Jason Isaacs). Maurice is disgusted with Halder for joining the Nazis but he beseeches him to use his influence to help him escape Germany. Maurice is Jewish and the Nazi hatred towards the Jews is clearly apparent. Halder is faced with a difficult dilemma. Does he focus purely on his career and the secure future of marriage with Anne, or does he risk it all to aid Maurice and help him escape to France?
This is very much a character study of Halder, an honourable German citizen that works hard and cares for his family, looking after the children as well as his aging mother, and supporting his wife who struggles to cope at home, only finding solace in playing the piano. Halder's pursuit of career advancement comes at a heavy price as his work on euthanasia is embraced by the Nazis not as a humane alternative to those who are in pain and suffering, but for a much more brutal objective. The film concludes in the midst of the Second World War as Halder witnesses what his work has led to. Mortensen is good in the lead as the placid Halder while Isaacs brings humanity to his role as Maurice, the scenes between the two men conveying a strong friendship that is irrevocably broken by Halder's ambitions and loyalties.
Good is an interesting focus on the impact of Nazi Germany on two friends forced onto opposite sides. Halder is a fascinating character, a pillar of society, but one who is arguably a monster by the end. Though covering a painful period of history, Good offers another much-needed perspective about the severe impact the Nazis had on their own people.
Verdict: 4/5
(Film source: reviewer's own copy)

About the Author:
I was born in Barnsley, South Yorkshire, England and have always been a bookworm and enjoyed creative writing at school. In 1999 I created the Elencheran Chronicles and have been writing ever since. My first novel, Fezariu's Epiphany, was published in May 2011. When not writing I'm a lover of films, games, books and blogging. I now live in Huddersfield, West Yorkshire, with my wife, Donna, and our six cats - Kain, Razz, Buggles, Charlie, Bilbo and Frodo.
David M. Brown – who has written 793 posts on Tweedle Dee and Tweedle Dave.
---