About Ghost in the Shell (1995)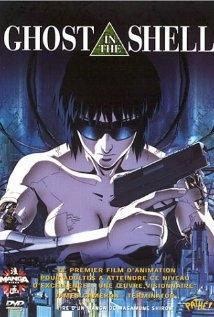 In a futuristic world where cyberspace, artificial intelligences and cyborg cops are the norm, only the Ghost (the indefinable element of human consciousness) exists to determine who is alive and who is purely a creation of the Net. Major Motoko Kusanagi is an elite officer in the Shell Squad who has been so heavily modified that little more than her Ghost remains. She is assigned to finding a computer criminal who is skilled enough to hack into the minds of his victims, and she finds that he uses humans as puppets to do his evil deeds. Things soon take on a more sinister twist. The special edition box set features the original subtitled version of the film and a documentary into the making of the piece.
Starring: Atsuko Tanaka, Iemasa Kayumi, Richard Epcar, Akio Ôtsuka, Tamio Ôki
Directed by: Mamoru Oshii
Runtime: 83 minutes
Studio: Palm Pictures
Amazon US
Amazon UK
IMDB
Review: Ghost in the Shell
Mamoru Oshii's Ghost in the Shell depicts an advanced technological future where human consciousness known as "ghosts" is the main defining factor between humans and machines. The world is connected through an intricate network and it is possible for these ghosts to leave one body and transfer to another. While beneficial there are also problems with such a world. A dangerous hacker known as the Puppet Master is at large and it is down to police officer Major Motoko Kusanagi to hunt him down. She is aided by Batou and Ishikawa, all members of Section 9 which recruits cyborgs whose enhanced abilities allow them to access networks at breakneck speed and absorb a vast array of information.
As heroines go, Kusanagi is both intelligent and strong, but such are the many technological enhancements she has that there is little in the way of emotion left in her near lifeless eyes. Away from the dangerous assignment to hunt down the Puppet Master, Kusanagi risks her life by immersing herself in the ocean while Batou waits on board a boat nearby. This is a rare moment where Kusanagi can let herself go and just be carried by the currents. Many aspects of the film made me think of Blade Runner where replicants are separated from humans only though their absence of emotions. In the midst of the action, Kusanagi is focused and brilliant, but in the film's more ponderous moments she seems somewhat lost in a world of daily innovations.
Ghost in the Shell 
has built up an impressive reputation over the years and is regarded as a key influence behind 
The Matrix. 
Combining some fantastic battles with intimate discussions between the characters, Oshii has crafted a terrific piece of sci-fi that boasts impressive visuals, fascinating characters and a great script. While I still lean towards 
Akira 
and the work of Studio Ghibli as the best anime has to offer, 
Ghost in the Shell 
is certainly one of the better films from this versatile medium.
Ghost in the Shell should be watched for its influence alone. A landmark piece of anime, the film's only downside is the brevity but it balances the change of pace well, is beautifully animated and has a tough heroine at the heart of the story. What more can one really ask for?
Verdict: 4/5
(Film source: reviewer's own copy)

About the Author:
I was born in Barnsley, South Yorkshire, England and have always been a bookworm and enjoyed creative writing at school. In 1999 I created the Elencheran Chronicles and have been writing ever since. My first novel, Fezariu's Epiphany, was published in May 2011. When not writing I'm a lover of films, games, books and blogging. I now live in Huddersfield, West Yorkshire, with my wife, Donna, and our six cats - Kain, Razz, Buggles, Charlie, Bilbo and Frodo.
David M. Brown – who has written 795 posts on Tweedle Dee and Tweedle Dave.
---