About Flakes (2007)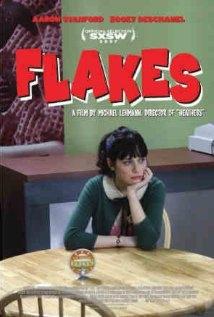 Miss Katz (Zooey Deschanel) desperately wants her boyfriend to ditch his dead-end job at Flakes–a bohemian cereal shop. So when an eager young businessman opens a rip-off version of this beloved neighborhood hang, Miss Katz joins the competition to bury Flakes. Stand offs, sit ins, pranks and clever revenge will result in victory for one half of the feisty couple, but it may just leave their relationship all soggy!
Starring: Aaron Stanford, Zooey Deschanel, Christopher Lloyd, Ryan Donowho, Carol Sutton
Directed by: Michael Lehmann
Runtime: 84 minutes
Studio: IFC
Amazon US
Amazon UK
IMDB
Review: Flakes
Flakes is a diner with a difference. Owned by Willie B (Christopher Lloyd) and managed by aspiring musician, Neal Downs (Aaron Stanford), Flakes serves only breakfast cereals to its customers with many being highly sought varieties. Neal's girlfriend Pussy Katz (Zooey Deschanel) is eager for Neal to finish a record and start pushing himself forward as a musician. She offers to work at Flakes and free up some time for him to complete the record but although Neal hires her he instantly fires her. It's a decision he comes to regret within about 2 minutes.
An opportunistic customer has popped into Flakes and explored the possibility of them franchising, something Willie and Neal are not interested in. Very soon, a rival flakes business opens across the street and it is here that Pussy Katz decides to head in search of new employment. She and Neal insist on being professional but she is determined to put her rival out of business and leave Neal with nothing to do but finally finish his record. It's all out war with breakfast cereals! Which business will survive? Will Neal and Pussy Katz see their relationship fall apart?
Flakes 
is a decent little comedy with a quirky cast and lots of cereal. It's always great to see Christopher Lloyd and he doesn't disappoint as the owner of Flakes though his work ethic is questionable to say the least. Stanford and Deschanel are also pretty good in the leads. The film has its amusing moments but by the end it's just a quite good effort rather than being a comedy that you will remember for a long time.
Flakes is certainly not groundbreaking but it does have some charm about it. The idea of a diner serving only cereal is appealing enough but once the novelty of that idea has worn off the film is a pretty standard romantic comedy with a very predictable ending. A must for cereal fans though.
Verdict: 3/5
(Film source: reviewer's own copy)

About the Author:
I was born in Barnsley, South Yorkshire, England and have always been a bookworm and enjoyed creative writing at school. In 1999 I created the Elencheran Chronicles and have been writing ever since. My first novel, Fezariu's Epiphany, was published in May 2011. When not writing I'm a lover of films, games, books and blogging. I now live in Huddersfield, West Yorkshire, with my wife, Donna, and our six cats - Kain, Razz, Buggles, Charlie, Bilbo and Frodo.
David M. Brown – who has written 818 posts on Tweedle Dee and Tweedle Dave.
---