About Five Minutes of Heaven (2009)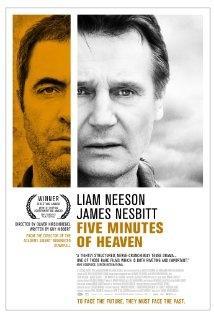 THE PAST IS NEVER DEAD, IN FACT IT ISNT EVEN PAST In 1975, 11-year old Catholic Joe Griffin witnessed the killing of his brother by a young Ulster Volunteer Force member, Alistair Little. The murder changed their lives forever. Working closely with both men, screenwriter Guy Hibbert creates a unique and compelling film that moves from a powerful re-enactment of these tragic events to a fictional interpretation of what might happen should these two men ever come face to face. From acclaimed director Oliver Hirschbiegel and starring Liam Neeson and James Nesbitt, FIVE MINUTES OF HEAVEN is a story inspired by two extraordinary lives, which explores the challenges of coming to terms with Northern Ireland s troubled past.
Starring: Liam Neeson, James Nesbitt
Directed by: Oliver Hirschbiegel
Runtime: 89 minutes
Studio: MPI HOME VIDEO
Amazon US
Amazon UK
IMDB
Review: Five Minutes of Heaven
Beginning in Lurgan, Northern Ireland, 1975, Five Minutes of Heaven tells the story of Alistair Little (Mark Davison) who at 17 was a member of the UVF (Ullster Volunteer Force). Heading a quartet of friends, Alistair has been given permission to assassinate a young Catholic, James Griffin (Gerard Jordan). When Alistair approaches the house he sees 8 year old Joe (Kevin O'Neill) playing football outside. Alistair hesitates briefly before turning to the house and firing through the window at James. After Alistair and his friends have driven away, Joe goes to his brother's aid but it is too late. James has been hit multiple times with 3 bullets hitting him in the head. The film moves on 33 years where Alistair (Liam Neeson) has previously done 12 years for his crime and is on his way to the filming of a documentary where he will be face to face with a now grown up Joe (James Nesbitt).
The events of 1975 are based on actual events but the meeting between Alistair and Joe is a work of fiction. Alistair appears calm about the meeting and demonstrates genuine concern and sympathy for Joe, hoping the producers have taking into account how hard the experience will be for him and that he will need a lot of support. Joe is a nervous wreck about the meeting, his driver frequently having to stop so Joe can have a smoke. He also had to keep his bosses frequently updated, making sure Joe doesn't run away. Joe is a mixture of emotions, arriving for the filming with a knife secreted amongst his person and in a quandary about whether to talk or to kill Alistair in revenge. The murder of James not only destroyed Joe's family but he was forever blamed by his mother for not preventing James' death. Having carried the guilt and blame for more than 30 years can Joe take the final step and film the documentary alongside Alistair or will he lose his nerve?
Undeniably tense throughout, Neeson and Nesbitt deliver good but contrasting performances and it is somewhat uplifting to witness Alistair's concern for Joe. There are problems with the film though. In terms of a lesson on the complexities and upheavals of Northern Ireland in the twentieth century, the film is somewhat limited in what it conveys. It is also painfully short. The intro offers a tense build up as a young Alistair plans and executes the murder of James, and although the meeting between an adult Alistair and an adult Joe moves along well, it soon seems too rushed at the end. An additional half hour could have been added to flesh out the characters, the history and the drama some more.
Five Minutes of Heaven is a fascinating but unpleasant depiction of one particular murder in 1970s Northern Ireland and how it ripped a family apart. Though this is well-acted by the two leads it is too short to impact as well as it should have. Had the film been longer and offered more of an historical insight into Northern Ireland this would easily have hit 4 stars. Unfortunately, the brevity does it hinder the film so for me it's just 3 stars.
Verdict: 3/5
(Film source: reviewer's own copy)

About the Author:
I was born in Barnsley, South Yorkshire, England and have always been a bookworm and enjoyed creative writing at school. In 1999 I created the Elencheran Chronicles and have been writing ever since. My first novel, Fezariu's Epiphany, was published in May 2011. When not writing I'm a lover of films, games, books and blogging. I now live in Huddersfield, West Yorkshire, with my wife, Donna, and our six cats - Kain, Razz, Buggles, Charlie, Bilbo and Frodo.
David M. Brown – who has written 836 posts on Tweedle Dee and Tweedle Dave.
---