About Evil Dead II (1987)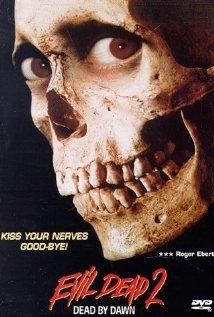 Ash (Bruce Campbell), the sole survivor of THE EVIL DEAD, returns to the same cabin in the woods and again unleashes the forces of the dead. With his girlfriend possessed by the demons and his body parts running amok, Ash is forced to single- handedly battle the legions of the damned as the most lethal – and groovy – hero in horror movie history! Welcome to EVIL DEAD II, director Sam Raimi's infamous sequel to THE EVIL DEAD and outrageous prequel to ARMY OF DARKNESS!
Starring: Bruce Campbell, Danny Hicks, Sarah Berry, Kassie Wesley, Theodore Raimi
Directed by: Sam Raimi
Runtime: 84 minutes
Studio: Lionsgate
Amazon US
Amazon UK
IMDB
Review: Evil Dead II
The sequel to Sam Raimi's classic 1981 horror sees us reunited with Ash (Bruce Campbell) who returns to the cabin from the first film with his girlfriend Linda (Denise Bixler). Ash discovers a tape from an archeology professor which he foolishly plays and discovers it is the professor reading passages from the Necronomicon or the Book of the Dead. The incantations release a malevolent force that possesses Linda and forces Ash to kill her. The evil comes back for Ash though and what follows is another frightening siege for our macho hero! Ash isn't alone though.
The Professor's daughter, Annie (Sarah Berry), her research partner Ed (Richard Domeier) and another couple – Jake (Dan Hicks) and Bobby Joe (Kassie Wesley) – soon arrive at the cabin. Anne has uncovered further pages from the Necronomicon but instead of finding the Professor she finds Ash all bloodied and armed. Believing Ash has murdered her parents, Annie has him tied up but it soon becomes apparent that something evil is still around and it's down to Annie to find a way to stop it while Ash takes on the duty of guardian in battling the demons with whatever he can get his hands (that should be hand really!), including a chainsaw which he uses in a rather inventive way.
I enjoyed 
Evil Dead 
but wasn't astounded by it. 
Evil Dead II 
is a much better film, combining gore with some hilarious exchanges. I seem to have watched this series completely out of order, having loved 
Army of Darkness 
(the third in the series) for years before watching the first two films, so it was interesting to see how 
Evil Dead II 
links up with that one. Bruce Campbell is brilliant in the lead once again, often hapless in fighting the forces of evil but certainly composed and ruthless as the film enters those final reels. As horror films go this is undoubtedly one of the classics with the humor making it stand out in not being just another gore fest.
Evil Dead II is a far superior film to its predecessor. Though essentially a similar story, it is funnier by far and that end sequence leading up to Army of Darkness is just brilliant. I probably still have a soft spot for Army of Darkness but Evil Dead II is certainly one of the best horror films I've seen for quite some time.
Verdict: 4/5
(Film source: reviewer's own copy)

About the Author:
I was born in Barnsley, South Yorkshire, England and have always been a bookworm and enjoyed creative writing at school. In 1999 I created the Elencheran Chronicles and have been writing ever since. My first novel, Fezariu's Epiphany, was published in May 2011. When not writing I'm a lover of films, games, books and blogging. I now live in Huddersfield, West Yorkshire, with my wife, Donna, and our six cats - Kain, Razz, Buggles, Charlie, Bilbo and Frodo.
David M. Brown – who has written 790 posts on Tweedle Dee and Tweedle Dave.
---