About End Call (2008)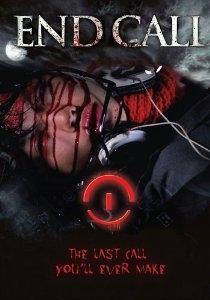 Japanese horror. A group of high school girls, struggling with exams, fending off the advances of a lecherous teacher and unable to find boyfriends, are ready to sell their souls if it would bring them a spot of luck. So when they hear an urban legend about a secret telephone number that, when called, makes the caller's dreams and desires come true they figure they have little to lose. Little do they know that the devil himself is on the other end of the line…
Starring: Yuria Haga, Asami Usuda, Tasuku Nagaoka, Rina Matsuki, Taro Suwa
Directed by: Kiyoshi Yamamoto
Runtime: 92 minutes
Studio: Cine Asia
Amazon US
Amazon UK
IMDB
Review: End Call
Four school friends – Mai, Sayoko, Ryoko and Mako – are all unhappy with their current lives, be it the pressures of school work, family or not having boyfriends. The four girls learn about a number that you can ring at midnight. It puts you through to the Devil and he will grant you any wish you desire. In exchange, the duration of the call will be the amount of time the Devil takes away from your life. Given this is a matter of minutes it doesn't seem that big a deal right? The four friends are tempted to better themselves but their actions have tragic consequences.
While Sayoko wishes for freedom, both Mai and Mako use the number to get themselves boyfriends but Mai doesn't realize her new boyfriend – Dojimo – was dating Ryoko. This proves severely damaging to Ryoko whose home life isn't good, her grades are poor and she is the latest target of a lecherous school teacher who is hands on with his students and gives them his email address should they wish to meet him outside of school. When Ryoko dies in an apparent suicide, footage of her death is posted online which leads to Sayoko investigating further as does Mai's boyfriend Dojimo who knows of an urban legend about the number. It seems the Devil is very generous at first but when Mai and Mako receive phone bills for 15,000 they are both stunned. What price is one wish?
End Call 
is a low budget horror and it does show in places sadly. One of the issues with the film is how unforgiving it can be if you get distracted, even for a second. You will need to stay focused throughout. The narrative jumps around rather than plays out chronologically and I'm not sure why this was necessary. There is a twist at the end but unless you are vigilant the first time you may need to watch this a second time to fully comprehend what the hell happened. I'm still in two minds about what the final twist was to be honest. That said, I still found much to enjoy in the eerie feel of this film, something Asian cinema does so much better than we do here in the West.
End Call has some merit but compared to the likes of Dark Water and The Grudge it's an inferior effort. The story is told out of order when it didn't need to be and it's very easy to lose track. There needed to be more substance in the script to tie everything together, while the final twist may be embraced by some as clever, but others will be left scratching their heads. 
Verdict: 3/5
(Film source: reviewer's own copy)

About the Author:
I was born in Barnsley, South Yorkshire, England and have always been a bookworm and enjoyed creative writing at school. In 1999 I created the Elencheran Chronicles and have been writing ever since. My first novel, Fezariu's Epiphany, was published in May 2011. When not writing I'm a lover of films, games, books and blogging. I now live in Huddersfield, West Yorkshire, with my wife, Donna, and our six cats - Kain, Razz, Buggles, Charlie, Bilbo and Frodo.
David M. Brown – who has written 792 posts on Tweedle Dee and Tweedle Dave.
---