About Eleanor's Secret (2009)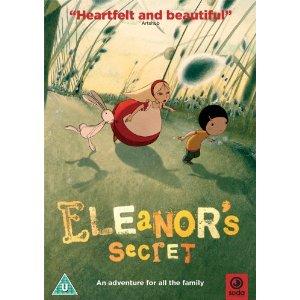 Animated children's feature about a boy who inherits a library of very special books. When his aunt Eleanor dies, seven-year-old Nathaniel is bequeathed the old lady's collection of classic children's books. Not having learnt to read, Nathaniel isn't very interested in the novels at first, but that all changes when the books' characters come unexpectedly to life. Asking for his protection, they tell him he must recite a magical passage in one of the books to prevent their disappearance and the stories being lost forever. Learning that his parents wish to sell off the library to unscrupulous local dealer Mr Pickall, Nathaniel soon finds himself magically transported into the characters' realm, where he must brave many dangers to save his new found friends.
Starring: Julie Gayet, Jeanne Moreau, Denis Podalydès, Pierre Richard, Paul Bandey
Directed by: Dominique Monfery
Runtime: 74 minutes
Studio: Soda Pictures
Amazon US
Amazon UK
IMDB
Review: Eleanor's Secret (2009)
I can still recall the Ladybird books from my primary school days, mostly pictures and just a handful of sentences to negotiate, a far cry from the novels I love to read today, that's for sure. In Dominique Monfery's Eleanor's Secret we are taken back to our childhoods and the love of books through the eyes of a boy who can't yet read.
Seven year old Nathanel and his family make for the home of their deceased relative, Eleanor. Nat and his sister Angelica are each left a gift in their aunt's will. While Angelica gets a doll, Nat is given a key to a room in the house, one that leads to Aunt Eleanor's vast library and its many books. Somewhat disappointed, Nat is reminded of his inability to read and soon agrees that his parents can sell the books. Problems arise when Nat is alone in the library and finds not only are these books first editions, the characters within the pages can step out into the real world and beseech Nat to protect them by reading a spell. Unless Nat can read the spell, the characters will all disappear and the world will lose its fairytales. What's a boy to do about his inability to read?
This is a pleasantly animated film with some great settings and visuals in places. Nat is the more appealing of the two children, his older sister frequently tormenting him and being generally unpleasant. When Nat meets the characters from the fairytales such as Captain Hook and Alice they show him a magic spell he must read aloud to preserve them but, of course, Nat is not able to do so. Worse follows when a disgruntled and wicked fairy uses a spell on Nat and shrinks him down to the size of the other characters. When opportunistic dealer, Mr Pickall, takes all the books to his shop, Nat and the other characters are trapped and must set out on a perilous journey back to Aunt Eleanor's house.
Nat is forced to face up to the challenge with the fates of the fairy tale characters on his shoulders. He takes along the likes of Alice and the White Rabbit for the journey and they have to negotiate the coastline on their way to Aunt Eleanor's house. Throughout the adventure, Nat is faced with the reality of having to read the magic spell if he and his friends make it that far. The question is will he be able to save the fairy tale characters and what of the precious books that Mr Pickall is desperately trying to sell.
Eleanor's Secret is a pleasant enough adventure with some very familiar but still very memorable characters. Nat's journey to Eleanor's house, being shrunk by a magic spell and the challenge of having to overcome his weakness to save the literary world, it's nothing really new and the outcome is very predictable. Turbulent relationships within the family are inevitably fused back together by this adventure and in the end you'll think of this as an okay experience but it certainly offers nothing particularly new.
Eleanor's Secret isn't a bad film but it isn't one that offers anything different either. Instilling a love of books in children is certainly a good thing but although Nat's adventure is a rewarding one for him in the end, you never really feel like he'll not succeed in the end.
Verdict: 2/5
Film Review: Eleanor's Secret | Thank you for reading Tweedle Dee and Tweedle Dave