About Duplex (2003)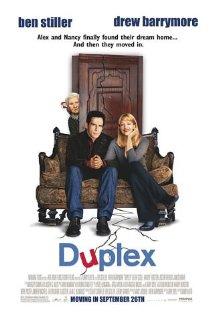 Comedy directed by Danny DeVito, starring Ben Stiller and Drew Barrymore as Alex and Nancy, a young professional New York couple who have bought the home of their dreams. But the house, though exactly what they dreamed of in almost every respect, turns out to have one major disadvantage: the tenant on the rent-controlled top floor. Mrs Connelly (Eileen Essel) is a cranky old woman who spends her days watching TV at full volume, practicing for her brass band, and constantly interrupting the couple's lives with various outrageous demands and requests. Alex, a writer, is struggling to finish his novel for a pending deadline when Nancy loses her job, leaving them both stuck at home with their neighbor from hell. Eventually their frustration turns to homicidal fantasies as they dream of a way to get rid of Mrs Connelly once and for all…
Starring: Ben Stiller, Drew Barrymore, Justin Theroux, Maya Rudolph
Directed by: Danny DeVito
Runtime: 90 minutes
Studio: Echo Bridge Home Entertainment
Review: Duplex a.k.a Our House 
We can choose our friends but we can't choose friends or neighbours, right? Mrs B and I are quite fortunate in that the neighbours are generally nice people and touchwood we've had no trouble. Danny DeVito's comedy takes a young couple who find a seemingly perfect new home only to have an elderly resident living above them.
Young couple Alex Rose (Ben Stiller) and Nancy Kendricks (Drew Barrymore) are in search of a new home and find the ideal haven in Brooklyn. The only downside is the elderly neighbor Mrs Connelly (Eileen Essell) who lives upstairs but with the assumption that she is not only very old but ill, Alex and Nancy take the apartment. It is spacious and cozy and they envisage extending once dear old Mrs Connelly has passed away. However, no sooner have the couple taken on this new property than they realize that Mrs Connelly is the neighbor from hell. Her actions put increased pressure n the couple in their working and personal lives and eventually they both begin to harbor dark thoughts about getting rid of Mrs Connelly.
Alex and Nancy seemingly have it all with their new home. While Nancy earns her living in advertising, Alex stays home and is currently working on his latest novel. He has a deadline with a publisher and the seeming quiet of the new property is ideal for him to complete his work. However, Mrs Connelly has other ideas. The first day Alex sits down to work he is constantly called by Mrs Connelly to help sort something in her home and before Alex knows what's happening his day has passed by and no writing done! The couple endure loud music and other noise while they're trying to sleep and Mrs Connelly even has a brass band round at her home to cause further disruption. In the end Alex has to take his laptop to a bar where he works amidst the drinking and socialising friends, families and couples.
Sleepless nights and increasing stress begin to take their toll on both Alex and Nancy. While Alex frantically races to finish his novel, Nancy becomes distracted at work and ends up losing her job. The more things go wrong, the more the couple look to Mrs Connelly as a burden and problem rather than an elderly neighbor. Hope emerges when Alex completes his novel but arriving home with his laptop he is immediately summoned upstairs by Mrs Connelly. Foolishly Alex takes his laptop with him and I shouldn't need to tell you what happens next. Becoming desperate Alex and Nancy consider killing Mrs Connelly and even look into getting a hitman involved, but can they go through with such a cold act?
Duplex has some very amusing moments and Stiller and Barrymore work well together as the leading couple. Essell is delightfully annoying as the elderly neighbor Mrs Connelly and you'll find yourself sympathising with Alex and Nancy as their lives begin to fall apart. The film does take a sinister turn as thoughts of killing Mrs Connelly come to the fore but the darkness doesn't last as DeVito keeps throwing the laughs. Although I found the film funny it's not what I would describe as a great comedy but it is still fun in places with some decent performances.
Duplex is a quite good comedy but certainly not up to the standards of Devito's masterpiece The War of the Roses (1989). This is still worth considering given a decent cast. You'll have fun with this one but it's certainly not a comedy that will live long in your memory.
Verdict: 3/5
(Film source: reviewer's own copy)
Film Review: Duplex | Thank you for reading Tweedle Dee and Tweedle Dave