Review of:
Dragon (2011)
Film:

Peter Ho-Sun Chan
---
Reviewed by:
Coral Russell
Rating:

5
On
June 13, 2013
Last modified:
June 13, 2013
---
Summary:
Please, oh please, make more of this.
More Details
About Dragon (2011)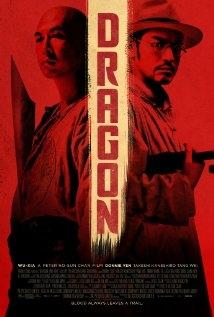 Liu Jin-xi (Donnie Yen) is a village craftsman whose quiet life is irrevocably shattered by the arrival of two notorious gangsters in the local general store. When Liu single-handedly saves the shopkeeper's life, he comes under investigation by detective Xu Bai-jiu (Takeshi Kaneshiro). Convinced that Liu's martial arts mastery belies a hidden history of training by one of the region's vicious clans, Xu doggedly pursues the shy hero — and draws the attention of China's criminal underworld in the process.
Starring: Donnie Yen, Takeshi Kaneshiro, Tang Wei
Directed by: Peter Ho-Sun Chan
Runtime: 98 minutes
Studio: Anchor Bay
Amazon US
Amazon UK
IMDB
Review: Dragon
This is at least the third pairing of Peter Chan and Takeshi Kaneshiro and that seems to be a wining combination. I've seen Dragon, Warlords and have Perhaps Love on the list to watch soon. This is a nice, genre-bending flick. If you expect Kung-Fu, it's there. It's been called 'noir' Kung-Fu and after watching this it doesn't quite fit from an American perspective. But, it is different in a really great way. Kung Fu movies have been campy, cheeky, over-the-top and downright silly. They've been redone horribly (The Man with the Iron Fists) and become an excuse for glutinous violence.
I'm going to have to say what makes Dragon different is there is a well-developed story and the caliber of actors. It is right up there with Hero which is one of my all time favorites. By expanding the options for Kung Fu movies they can focus on the story and letting the actors, well, act. The whole story comes together because there is no weak performance in the film. It is also a detective story with a similar feel a la the recent Sherlock Holmes movies. Takeshi's character uses his deductive reasoning to figure out that a common paper maker did not take down the toughest bandit in the region because he was lucky.
Who is this paper maker? He arrived at the village ten years ago claiming a horrible family life that he had no choice but to run away from and even changed his family name. The paper maker has deftly woven a little bit of truth into his fiction but he can't outsmart the detective. Takeshi goes out of his way to prove it which opens up a much bigger can of worms and ramps the film up another notch. The detective has some secrets of his own and that is the only part of the movie, for me, that felt the tiniest bit flat. Almost as if the writer didn't know how to build up that suspense except in the memorable quote above from the exchange with his estranged wife. This is new territory for Kung Fu movies so I'm willing to forgive it.
Please, oh please, make more of this. The settings are gorgeous. I would want to watch a movie made in China every day to see scenery like that. Add great acting to an almost flawless story and it will be a five star for me every time.
Verdict: 5/5
(Film source: reviewer's own copy)

About the Author:
Coral Russell is a reader, writer, blogger and helps run The Indie Exchange.
Coral Russell – who has written 1 posts on Tweedle Dee and Tweedle Dave.
---