About Dead Silence (2007)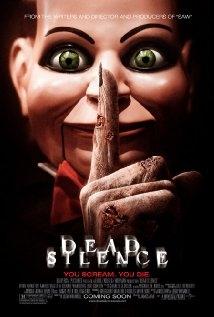 Chilling horror from the makers of 'Saw'. Mary Shaw (Judith Roberts) was a popular entertainer until she was accused of murdering a young boy. After she was captured by the vengeful townspeople her tongue was cut out before she was mercilessly killed and committed to the earth in the company of her collection of vaudeville dolls. In the years that followed, the town seemed to be haunted by the puppets, and, after mysteriously disappearing from Mary's grave, the menacing figurines would sometimes be glimpsed by the damned in the dead of night – their appearance consistently foreshadowing the death of whoever laid eyes upon them. Newlyweds Jamie (Ryan Kwanten) and Lisa Ashen (Laura Regan) both grew up in Ravens Fair. Now, following Lisa's inexplicable death, Jamie has returned to the pair's hometown in order to say his final goodbyes and find out the truth about his wife's enigmatic demise. After being reunited with his ailing father (Bob Gunton) and the aging man's pretty young bride (Amber Valletta), the grieving widower will finally uncover the shocking truth behind the curse that has plagued Ravens Fair for as far back as he can remember.
Starring: Amber Valetta, Ryan Kwanten, Donnie Wahlberg, Michael Fairman, Joan Heney
Directed by: James Wan
Runtime: 91 minutes
Studio: Universal Studios
Review: Dead Silence 
I can remember a handful of ventriloquist acts when I was growing up in the eighties and nineties and was always impressed by them. Some people don't share that sentiment, of course, and others find the ventriloquist dolls a tad spooky. James Wan's Dead Silence may shatter your previous fondness for ventriloquism, putting one of the dolls at the center of a dark horror film.
The film begins with Jamie Ashen (Ran Kwanten) and his wife Lisa (Laura Regan) receiving a ventriloquist doll in the post in an unmarked package with no return address. The doll is named Billy and it prompts Lisa to recall a poem from her childhood about a woman named Mary Shaw and her ventriloquist dolls.  When Jamie pops out for a takeaway, he returns home to find Lisa dead with her tongue ripped out. Jamie becomes a suspect in the eyes of Detective Jim Lipton (Donnie Wahlberg) who keeps a close eye on Jamie as he heads for his hometown of Ravens Fair to unearth clues about Mary Shaw (Judith Roberts), the owner of Billy.
After the gruesome death of his wife, Jamie is soon doing some detective work back in his home town and he is reminded of the poem about Mary Shaw, "Beware the stare of Mary Shaw, she had no children – only dolls; and if you see her in your dreams, be sure you never, ever scream." It seems the old poem is linked to the death of Jamie's wife somehow but as Jamie digs deeper he finds that Mary Shaw has long since died so who is behind the murder at the outset of the film? Is Billy alive and able to think and act for himself?
The back story to Mary Shaw is interesting to say the least but regaling you with any of it here will only spoil the film so you'll just have to trust me on that one. Jamie has the unwanted attentions of both Billy, whose eyes clearly move when no one is looking, while Detective Lipton clearly has no life or family as he is glued to Jamie throughout as if he is a shadow. The film manages to remain intriguing from the start but once the revelations about the past have come to the fore it settles into fairly standard horror fare. This film comes from the duo that brought us the first film in the Saw series so if you're expecting a twist near the end you won't be disappointed.
This is inevitably not up to the high standards of Saw but James Wan and Leigh Whannel are always going to struggle to reach those exceptional heights again. As it is, Dead Silence is a pretty good little horror film with a lot of care being taken with the storyline. If you can cope with the sight of a ventriloquist doll then you'll not find this too scary but if seeing them leaves you unnerved then this may be an uncomfortable 90 minutes of film for you.
Dead Silence has enough of a story to maintain the interest throughout. It's not a particularly scary horror film but I'd rather have one with a decent plot than just trying to freak me out. The twist at the end is a good one but for all Wan and Whannel's efforts, this is certainly not a rival to the brilliant Saw.
Verdict: 3/5
(Film source: reviewer's own copy)
Film Review: Dead Silence | Thank you for reading Tweedle Dee and Tweedle Dave