About Curse of the Golden Flower (2006)"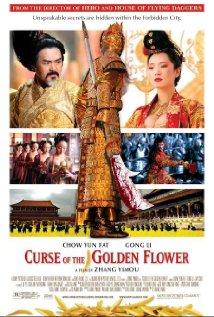 From the director of Hero and House of Flying Daggers comes the martial arts epic masterpiece whose savage beauty and exquisite elegance has mesmerized and captivated audiences around the world. Set in the lavish and breathtakingly colorful world hidden from the eyes of mere mortals behind the walls of the Forbidden City, a tale of a royal family divided against itself builds to a mythic climax as lines are crossed, trust is betrayed, and family blood is spilled in the quest for redemption and revenge. Starring Chow Yun Fat of Crouching Tiger, Hidden Dragon as the embattled Emperor and Gong Li of Memoirs of a Geisha as his poisoned Empress, Curse of the Golden Flower grants you entry into a dazzling and spectacular world of betrayal, vengeance and passion that will change the way you think of martial arts forever. "
Starring: Yun-Fat Chow, Li Gong, Jay Chou, Ye Liu, Dahong Ni
Directed by: Zhang Yimou
Runtime: 114 minutes
Studio: Sony Pictures Home Entertainment
Review: Curse of the Golden Flower 
My latest study in the career of Zhang Yimou is his 2006 epic Curse of the Golden Flower. After the likes of Hero and House of Flying Daggers I was confident of a film rich in colour, battles and stunning characters. The film follows intrigue and conspiracy in the court of the Emperor (Chow Yun-fat) who returns from years of campaigning with his son and general, Prince Jai (Jay Chou). The emperor's return coincides with the beginning of the Chong Yang Festival where the palace is filled with golden chrysanthemums but there is little time to admire the scenery. In the Emperor's absence, the Empress (Gong Li) has been having an affair with her stepson, Crown Prince Wan (Liu Ye) who longs to escape the palace and is in the midst of another affair with Jiang Chan (Li Man), daughter of the Imperial Doctor. There is a third son Prince Yu (Junjie Qin) who is generally excluded from proceedings, with Wan groomed for the throne and Jai excelling on the battlefield.
All is not as it seems in court. Prince Jai is reserved and dutiful but grows concerned for his mother who is continually taking a myriad of medicines but is prone to collapsing. It transpires that the Emperor has relied on the Imperial Doctor and his wife to slowly poison the Empress. She turns to Prince Jai in the hope of stirring up a rebellion and though he is loathe to raise arms against his father, seeing the plight of his mother is enough to sway him down the path of insurgence.
During the Chong Yang Festival the intrigue in the Emperor's family bubbles over into shocking revelations about the past, in particular the first Empress, and violence is not far behind. The question is who will emerge as the ruler? Is the Emperor clueless about what the Empress and Prince Jai are planning? Does the Empress know that Wan is having an affair with another woman besides her? Will the Emperor succeed in poisoning the Empress? Will Jai rise in rebellion and kill his father? Will Wan and Yu do anything to stop their brother?
Curse of the Golden Flower doesn't quite reach the heights of some of Yimou's previous films but it is stunning to watch. The cast are all terrific with veterans Chow Yun-fat and Gong Li being more than matched by the young actors playing their sons. The battles are unsurprisingly fantastic but this is comfortable territory for Yimou who excels with this type of film.
Verdict: 4/5
(Film source: reviewer's own copy)
Film Review: Curse of the Golden Flower | Thank you for reading Tweedle Dee and Tweedle Dave