About Coraline (2009)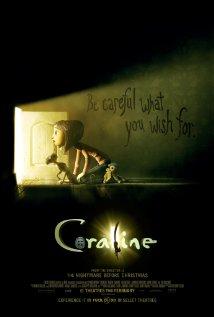 Ever sometimes wish you had an "other-mother?" Well in the case of Coraline, she needs to be careful what she wishes for. This film feels like it is straight from Tim Burton's reel, for it conveys the same kind of dark but whimsical world as The Nightmare Before Christmas and Edward Scissorhands; however this time it is Henry Selick to be credited. Coraline is a strong and confident girl who is well versed in magical tactics even before she moves to a very old house with her work-driven parents. In Coraline's boredom, she finds a small door behind the wallpaper which leads to a charmingly dark parallel universe. Here she finds her "other-mother" and "other-father" who give Coraline everything she longs for in her own home. However, this other- world quickly loses its charm and becomes simply dark. Coraline must defeat her deceptive "other-mother" using her clever intellect and her newfound eclectic community. A particularly effective color score helps differentiate between Coraline's real and parallel worlds as well as to subtly guide the viewer's emotions. This film achieves effective subtleties in its animation, making the "real life" animation feel more life-like and the parallel universe animation feel more surreal. Though this film exhibits beautiful animation, it is consistently dark with quite a few scary sections. This film shows a dark world that a courageous little girl is able to navigate, a journey through which she realizes that her dull-colored world really wasn't so bad.
Starring: Dakota Fanning, Teri Hatcher, Jennifer Saunders, Dawn French, Keith David
Directed by: Henry Selick
Runtime: 101 minutes
Studio: Universal Studios
Review: Coraline 
Henry Selick's adaptation of Neil Gaiman's 2002 novel offered a lot of promise. Selick was responsible for one of my favorite animations, The Nightmare Before Christmas, and Gaiman is a writer I rate highly so Coraline had a lot of potential for me.
The film's protagonist, Coraline, is eleven years old and loves a spot of exploration and adventure. When she moves to the Pink Palace Apartments in Oregon with her parents, Coraline is left to wander the old house and surrounding area alone as both her mother and father are busy working on a catalog. Coraline soon becomes friends with some of the other residents including the landlady's grandson, Wyborn, and two actresses, Misses Spink and Forcible. Coraline biggest discovery comes with a small doorway hidden behind some wallpaper in her house. When the door is first opened there is just a brick wall behind it but one night the doorway leads to an alternative reality known as the Other World, inhabited by the same residents of Pink Palace Apartments as well as Coraline's parents. This Other World seems better than the one Coraline is used to but will she leave her parents behind to start a new life in this other reality?
Coraline, though young, comes across as independent and having something of an attitude. Her parents are pretty neglectful of her needs, absorbed in their work, and when Coraline finds her way into the Other World the contrasts are amazing. Her Other Mother is attentive and kind as is her Other Father and Coraline has no hesitation in staying there for the night. Returning to her own world makes Coraline realize what is lacking in her life and she begins to spend more and more time in the Other World. Of course, not everything is as it seems in the Other World and I don't just mean the residents having black buttons instead of eyes! During one visit Coraline encounters a cat in the Other World which she has seen her own world, only this one has the ability to talk. It warns Coraline that the Other World is dangerous and she should take heed of this warning but, of course, Coraline doesn't!
When Coraline is offered the chance to live in the Other World forever she is initially delighted at the prospect. However, the Other Mother informs her that in order to live there Coraline will need to have black buttons sewn into her eyes which she firmly refuses. This leads to the unmasking of the Other World as a dark and sinister place but Coraline seemingly escapes a sorry fate only to find that her parents have disappeared in her world. Having taken solace in the arms of alternative parents, Coraline must now fight to regain her real parents but has the damage already been done?
The animation in Coraline is undoubtedly exceptional and both the characters and scenery look fantastic too. However, I'm not sure what it was but in the end I was satisfied with the film rather than blown away by it. The story is quite good but I felt there could have been some improvements here, as if all the focus had gone on the visuals. Selick has still done a great job here but for me this falls a long way from the excellence of The Nightmare Before Christmas.
Coraline is a decent enough animation with some terrific visuals. The story isn't as absorbing as I had hoped but in the end it's still a good tale complemented by that great animation. The majority of Gaiman fans will love this and I'm pleased to say Selick has not of his quality in direction.
Verdict: 3/5
(Film source: reviewer's own copy)
Film Review: Coraline | Thank you for reading Tweedle Dee and Tweedle Dave