About Citizen Kane (1941)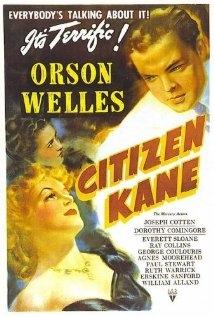 Orson Welles makes his feature-length directorial debut with this classic drama which often tops critics' polls of the best films of all time. In 1940, newspaper tycoon Charles Foster Kane (Welles) dies after uttering the word 'Rosebud'. An anonymous reporter (William Alland) is assigned the task of uncovering the meaning of Kane's dying word, and in the course of his enquiries he receives varying accounts of his life from former colleagues Jedediah Leland (Joseph Cotten) and Bernstein (Everett Sloan), and ex-wife Susan Alexander (Dorothy Comingore). The film, which Welles also produced and co-wrote, was not-so-loosely based on the life of newspaper magnate William Randolph Hearst.
Starring: Orson Welles, Joseph Cotten, Agnes Moorehead, Ray Collins, Dorothy Comingore
Directed by: Orson Welles
Runtime: 119 minutes
Studio: Turner Home Entertainment
Review: Citizen Kane
Initially snubbed on its release, Orson Welles' Citizen Kane is now regarded by many as the greatest film ever made. That is some tag to live up to and I was sorry it's taken me three decades to see this classic myself. The film tells the story of Charles Foster Kane (Welles) who dies alone in his vast estate known as Xanadu clutching a snow globe and his final chilling word being, "Rosebud." As proprietor of a newspaper and fabulously wealthy, Kane's death is big news but in the aftermath of putting together a newsreel of Kane's life, reporter Jerry Thompson (William Alland) goes deeper by interviewing friends, colleagues and associates of Kane, his intention to decipher the meaning of the great man's last word, "Rosebud."
As Jerry looks into the mystery we are taken back through Kane's life, beginning with his simple childhood, where he comes into a vast fortune and is taken away from his parents to be educated. At 25 Kane takes charge of his inheritance and runs a newspaper, The New York Enquirer. Kane builds the newspaper up from nothing to the biggest in the city and even turns his hand to a stint at politics after marrying Emily Monroe Norton (Ruth Warrick) who just happens to be the President's daughter. Gradually, things go wrong for Kane and we are taken from his youth to his old age alone in Xanadu.
First of all, Citizen Kane is not, in my opinion, the greatest film ever made but it is still a magnificent piece of cinema. This is the second time I have seen Welles on screen and he simply dominates every scene with his presence and confidence. He is an absolute joy as Kane in his youth. The transformation in Kane's later years is simply remarkable, that spark now gone from Kane who is surrounded by everything that money can buy but happiness is the one thing that continues to elude him. The mystery of "Rosebud" is revealed at the very end and it is worth the wait, enhancing what has been a beautifully crafted film from start to finish.
While I can't accept Citizen Kane as the greatest film of all time, there is no doubting just how incredible an achievement it is. Lambasted on its release, Welles crafted an innovative piece of cinema which boasted great acting, a compelling storyline and a fascinating mystery which hits hard in its poignancy as we approach those final reels. I have enormous respect for Welles after this and have no hesitation in praising it highly.
Verdict: 5/5
(Film source: reviewer's own copy)
Film Review: Citizen Kane | Thank you for reading Tweedle Dee and Tweedle Dave