Butch Cassidy and the Sundance Kid (1969)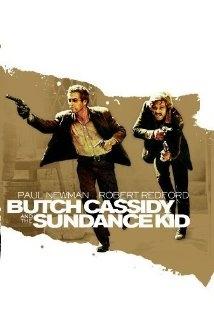 Paul Newman and Robert Redford set the standard for the "buddy film" with this box office smash set in the Old West. The Sundance Kid (Redford) is the frontier's fastest gun. His sidekick, Butch Cassidy (Newman), is always dreaming up new ways to get rich fast. If only they could blow open a baggage car without also blowing up the money-filled safe inside… Or remember that Sundance can't swim before they escape a posse by leaping off a cliff into rushing rapids… Times are changing in the west and life is getting tougher. So Butch and Sundance pack their guns, don new duds, and, with Sundance's girlfriend (Katharine Ross), head down to Bolivia. Never mind that they don't speak Spanish – they'll manage somehow. A winner of four Academy Awards (including best screenplay and best song), here is a thoroughly enjoyable blend of fact and fancy done with true affection for a bygone era and featuring the two flashiest, friendliest funniest outlaws who ever called out "hands up!"
Starring: Paul Newman, Robert Redford, Katharine Ross, Strother Martin, Henry Jones
Directed by: George Roy Hill
Runtime: 110 minutes
Studio: Twentieth Century Fox
Review: Butch Cassidy and the Sundance Kid
Drawing on the true story but also adding a little Hollywood glamour, George Roy Hill's film tells the story of Butch Cassidy (Paul Newman), the intelligent leader of the Hole in the Wall Gang. Butch's closest friend is the Sundance Kid (Robert Redford) who is renowned as arguably the fastest gunman in the West. Butch and Sundance specialise in robbery be it banks or trains but their latest plan goes a little wrong when Butch uses too much dynamite and blows up one of the train carriages rather than the safe holding the money. The gang have little time to collect the stray money as a small group of law enforcers appear and begin to pursue them.
What Butch and Sundance take to be just a typical group of law enforcers reveal themselves to be experts with one of the members being a famous Indian tracker. It takes some pretty risky planning to shake off the group. Sundance's girlfriend, Etta (Katharine Ross), informs the two outlaws that men have been hired to hunt them down and not stop until both are dead. With life in the West proving more risky with each passing day, Butch, Sundance and Etta head south for Bolivia to begin a new life but will they survive or will the law catch up with them?
The reputation of Butch Cassidy and the Sundance Kid certainly precedes it. With a fabulous script from William Goldman, creator of the masterpiece that is The Princess Bride, you are guaranteed some witty exchanges and it doesn't disappoint. Butch is the resourceful optimist of the duo while Sundance is more level-headed and utterly deadly with his gun. Newman and Redford make a terrific double-act here, one of the best you are ever likely to see. While the story is mostly serious there are some amusing moments in there, especially when our two outlaws try to rob a bank in Bolivia but their lack of Spanish proves somewhat problematic. Iconic moments hit you thick and fast and although some moments seem a little whimsical this remains a quality Western.
Butch Cassidy and the Sundance Kid certainly isn't the best Western I have ever seen but it's still a good one. With Newman and Redford both on great form and a script to match their respective talents you will be in good company as you follow Butch and Sundance through their career as outlaws and will be left to speculate just a tiny bit about the conclusion.
Verdict: 4/5