About Broadcast News (1987)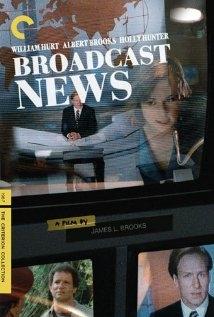 In James L. Brooks' quirky, romantic comedy, three ambitious workaholics are set loose in a network TV newsroom where their professional and personal lives become hopelessly cross-wired. Tom (William Hurt) is the modern anchorman, smooth, handsome and a bit dumb. Jane (Holly Hunter) is his driven, brilliant producer, determined to turn Tom into a real newsman. And Aaron (Albert Brooks) is a seasoned, totally uncharismatic reporter who can't stand Tom's instant success on-camera or with Jane. It all adds up to one explosively funny romantic triangle.
Starring: William Hurt, Albert Brooks, Holly Hunter, Robert Prosky, Lois Chiles
Directed by: James L. Brooks
Runtime: 133 minutes
Studio: 20th Century Fox
Amazon US
Amazon UK
IMDB
Review: Broadcast News
The world of television news is a complicated place and for our three leads here that couldn't be more true. After a glimpse of our three protagonists in their youth, we move to the present day where Jane Craig (Holly Hunter) is a hard working producer for a prestigious company. Her best friend is Aaron Altman (Albert Brooks), a writer and reporter, who is secretly in love with Jane though never brings himself to tell her. Their lives are changed when the network hires Tom Grunick (William Hurt), a local anchorman who has previously worked in sport but who now takes a prominent role in his new workplace. Jane finds herself attracted to him even though he fits the bill for the sort of guy she normally hates. Aaron is left to suffer, but not completely in silence!
The film covers Tom's start at the company and his gradual rise through the ranks, despite many limitations. He and Jane begin impressing many including the network's star anchorman, Bill Rorish (Jack Nicholson). However, the complicated love triangle between Tom, Jane and Aaron begins to put a severe strain on them in the workplace and when budget restrictions later rear their ugly head and redundancies across the network are threatened we are left to speculate about who will survive. When the business of cuts has been resolved will Jane end up with Tom or Aaron or will the three protagonists decide to go their separate ways instead?
A big hit when it was first released, 
Broadcast News 
was showered with Oscar nominations as well and it's not hard to see why. Hurt, Hunter and Brooks are all fantastic and all three received nods from the Academy. Hurt's Tom is the handsome new anchorman that is full of doubts about his limited knowledge when it comes to current affairs. Hunter's Jane is strong and independent, a fierce workaholic but beneath the surface she longs to be with Tom. Brooks' Aaron you can't help feel sorry for in the midst of unrequited love for Jane and despite his undoubted talent he is very much spurned by his peers. A delightful script and a surprise ending augment what is both a funny and at times tragic comedy.
Broadcast News gives us a wonderful insight into the fast and furious world of television news. We watch from the surface and delve behind the scenes where the action is frenetic from start to finish. A memorable cast make this one a joy throughout and even the sadly limited screen time for Jack Nicholson doesn't ruin the experience. Comparable to Network in some ways and thankfully just as good.
Verdict: 4/5
(Film source: reviewer's own copy)

About the Author:
I was born in Barnsley, South Yorkshire, England and have always been a bookworm and enjoyed creative writing at school. In 1999 I created the Elencheran Chronicles and have been writing ever since. My first novel, Fezariu's Epiphany, was published in May 2011. When not writing I'm a lover of films, games, books and blogging. I now live in Huddersfield, West Yorkshire, with my wife, Donna, and our six cats - Kain, Razz, Buggles, Charlie, Bilbo and Frodo.
David M. Brown – who has written 818 posts on Tweedle Dee and Tweedle Dave.
---