About Bridesmaids (2011)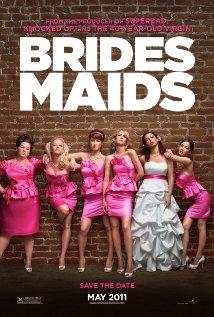 Universal Pictures and producer Judd Apatow (Knocked Up, The 40-Year-Old Virgin) invite you to experience Bridesmaids. Kristen Wiig leads the cast as Annie, a maid of honor whose life unravels as she leads her best friend, Lillian (Maya Rudolph), and a group of colorful bridesmaids (Rose Byrne, Melissa McCarthy, Wendi McLendon-Covey and Ellie Kemper) on a wild ride down the road to matrimony.
Annie's life is a mess. But when she finds out her lifetime best friend is engaged, she simply must serve as Lillian's maid of honor. Though lovelorn and broke, Annie bluffs her way through the expensive and bizarre rituals. With one chance to get it perfect, she'll show Lillian and her bridesmaids just how far you'll go for someone you love.
Starring: Kristen Wiig, Maya Rudolph, Rose Byrne, Ellie Kemper, Melissa McCarthy
Directed by: Paul Feig
Runtime: 125 minutes
Studio: Universal Pictures
Review: Bridesmaids 
Directed by Paul Feig, Bridesmaids was a big hit on its release. From the trailers I wasn't overly convinced it was a film I would enjoy but Mrs B insisted we give it a try so we did. The film focuses on Annie Walker (Kristen Wiig) who is single and not enjoying life. Her bakery failed and was followed by the loss of her boyfriend and savings. Annie works in a jewelry store and has a no-strings relationship with Ted (Jon Hamm) but she longs for something more. When Annie's best friend Lillian (Maya Rudolph) announces she is engaged, she wants Annie to be the maid of honor. Annie accepts eagerly but has to contend with a group of bridesmaids with one in particular, Helen (Rose Byrne), determined to upstage Annie, take charge of the wedding and win Lillian's friendship.
Annie's life is going nowhere at the start of the film. She is hoping for a relationship with Ted but he is too absorbed in himself to even contemplate this. Annie does find potential romance with a police officer Nathan (Chris O'Dowd) who pulls her over for having broken taillights. There is little time for romance though what with a wedding to plan. Annie gets on okay with most of the bridesmaids, Rita (Wendi McLendon-Covey), Becca (Ellie Kemper) and Megan (Melissa McCarthy), but Helen is another matter. In a painful sequence Annie has to make a speech for the engaged couple and keeps it brief only for Helen to take to the stage and outclass her. Annie returns to regain the advantage but Helen simply keeps returning! It is the first in a series of dirty deeds from Helen who sinks very low to separate Annie and Lillian. When Annie suggests a Parisian theme for the wedding, Helen dismisses it only to later surprise Lillian with plane tickets to Paris! Yes, it's that painful.
Bridesmaids has some hilarious moments including the women getting food poisoning while having dresses fitted and Helen spiking Annie's drink on a plane to Las Vegas with embarrassing results. The rivalry between Annie and Helen inevitably leads to breaking point and unsurprisingly Lillian sees Annie as the one causing all the disruption and hands control of the wedding over to Helen. Annie accepts the decision with reluctance but is that the end of the disasters? Not at all. There are still plenty more misunderstandings and unpleasant exchanges still to come. Will Annie regain her place as maid of honour? Will the wedding go ahead as planned? What of Annie's love life? Does Ted realize she's the one or will she end up with Nathan?
Bridesmaids was a surprising film for me full of hilarious incidents and a great bunch of characters, some you'll love, others you will despise. The cast are all great and although some of the ending scenes are predictable the film still rounds off in a feel-good way. Mrs B went through a plethora of emotions watching this. She'll tell you it's good and I agree.
Verdict: 4/5
(Film source: reviewer's own copy)
Film Review: Bridesmaids | Thank you for reading Tweedle Dee and Tweedle Dave