About Body Heat (1981)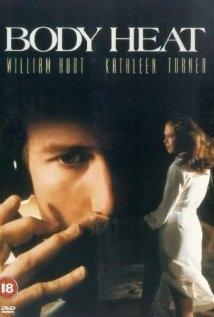 An erotic thriller starring William Hurt as gullible Florida lawyer Ned, who becomes involved with married femme fatale Matty (Kathleen Turner). He is soon obsessed with her and will do anything for her; even murder her husband. Director Lawrence Kasdan creates a modern film noir.
Starring: William Hurt, Kathleen Turner, Richard Crenna, Ted Danson, J.A. Preston
Directed by: Lawrence Kasdan
Runtime: 113 minutes
Studio: Warner Home Video
Amazon US
Amazon UK
IMDB
Review: Body Heat
Lawrence Kasdan's erotic thriller tells the story of a lawyer, Ned Racine (William Hurt), who goes to work each day and on returning home is on the look out for one night stand opportunities. Things change when he meets Matty Walker (Kathleen Turner) who is married to a rich businessman, Edmund Walker (Richard Crenna), who is away during the week and only comes home at weekends. Ned pursues Matty and they begin a passionate affair amid the unrelenting summer heat which is mentioned more than once. Rather than discard Matty as he would with other women, Ned keeps coming back and cannot resist her. Over time they fall in love and want to be together but there are some complications.
Keeping their affair secret seems straightforward enough to begin with but Ned foolishly visits Matty when she's caring for her niece and the girl spots them in a compromising position! Oh dear. Worse follows when Matty insists she wants to be with Ned but wants some of Edmund's money. Having signed a pre-nuptial agreement she would come out of a divorce with very little so doesn't know what to do. Of course, Ned who is now besotted decides that the best way forward will be to murder Edmund which Matty reluctantly agrees with. The scene is then set for a homicide but can Ned go through with it and is Matty really to be trusted?
Body Heat 
is a somewhat predictable but still engaging thriller from start to finish. Considered pretty steamy at the time, the sex scenes are rather tame by today's standards so don't let the erotic tag put you off. Both Hurt and Turner are very good in the leads with Turner getting in some good practice for her memorable role as Barbara Rose less than ten years after this one. Notable support is to be found from a geeky Ted Danson and Mickey Rourke who Ned turns to when plans are put in place to murder Edmund. It was great to see Richard Crenna, who I've only ever seen in the 
Rambo 
movies. He sure looked strange without the soldier's uniform!
Body Heat is a well-worked thriller with good central performances and a decent ending despite much of the story being easy to work out beforehand. I've seen films that have followed this one that are almost identical but this one explores the themes of lust, greed and power very well and will maintain your interest throughout Ned's descent into murder for love.
Verdict: 4/5
(Film source: reviewer's own copy)

About the Author:
I was born in Barnsley, South Yorkshire, England and have always been a bookworm and enjoyed creative writing at school. In 1999 I created the Elencheran Chronicles and have been writing ever since. My first novel, Fezariu's Epiphany, was published in May 2011. When not writing I'm a lover of films, games, books and blogging. I now live in Huddersfield, West Yorkshire, with my wife, Donna, and our six cats - Kain, Razz, Buggles, Charlie, Bilbo and Frodo.
David M. Brown – who has written 807 posts on Tweedle Dee and Tweedle Dave.
---