Review of: Blood Simple (1984)
Film:

Joel Coen
---
Reviewed by: David M. Brown
Rating:

4
On July 3, 2013Last modified:July 3, 2013
---
Summary:
Blood Simple is a strong, well-crafted thriller with a decent cast and storyline executed confidently by Joel Coen.
More DetailsAbout Blood Simple (1984)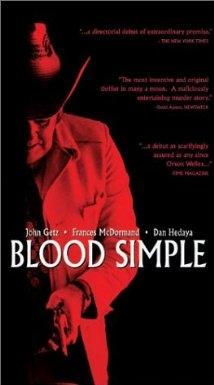 This knowing homage to 40s film noir is the first feature from eccentric movie-making duo the Coen brothers. A Texan bar owner (Dan Hedaya) hires a hitman (M. Emmet Walsh) to kill his wife (Frances McDormand) and her lover (John Getz). The plan backfires when the contract killer, having already collected his fee, executes a variation on the hit and a series of nightmarish murders ensue.
Starring: John Getz, Frances McDormand, Dan Hedaya, M. Emmet Walsh, Samm-Art Williams
Directed by: Joel Coen
Runtime: 96 minutes
Studio: Universal Pictures
Amazon USAmazon UKIMDB
Review: Blood Simple
This debut effort from the Coen brothers has many of the elements that have given them an impressive array of films over the last three decades. The film tells the story of Julian Marty (Dan Hedaya) who owns a bar in Texas and believes his wife Abby (Frances McDormand) is having an affair with a bartender, Ray (John Getz). Julian turns to private detective Loren Visser (M. Emmet Walsh) to uncover evidence of the infidelity. When Julian's fears are confirmed he returns to Loren and demands that the couple be killed.
Loren earns good money from his business dealings with Julian and for a price he is willing to murder Ray and Abby. Greed comes to dominate the detective though. After breaking into Abby's home and finding her in bed with Ray, he searches for Abby's gun to complete the job. Presenting photos of the dead couple to Julian, Loren gets his money but stuns Julian by producing his gun and shooting the bar owner. What follows is a series of surprises with characters we believed to be dead far from it. The question is who is involved in what scheme and who will stay alive long enough to unravel the mystery.
A great cast carry along this effort from the Coens with minimal difficulty. Hedaya makes for a decent bad guy choosing to buy solutions to his problems rather than solve them himself, while Walsh is memorable as the detective who sees an opportunity for a large gain and takes it. Getz and McDormand complete a great leading quartet, beginning as smitten lovers but soon descending into mistrust and paranoia as Loren's actions impact on all concerned. While not the best of the Coen brothers' films, this one is still an impressive debut and gives a taste of what was to come.
Blood Simple is a strong, well-crafted thriller with a decent cast and storyline executed confidently by Joel Coen. It has the confusion factor of some Coen brothers' films as well as the rich blend of violence, a good script and memorable characters to make this well worth your consideration.
Verdict: 4/5