About Black Swan (2010)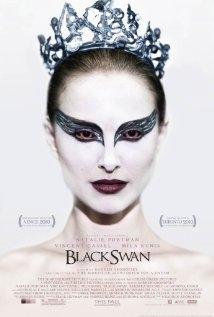 Nina (Portman) is a ballerina in a New York City ballet company whose life, like all those in her profession, is completely consumed with dance. She lives with her obsessive former ballerina mother Erica (Hershey) who exerts a suffocating control over her. When artistic director Thomas Leroy (Cassel) decides to replace prima ballerina Beth MacIntyre (Ryder) for the opening production of their new season, Swan Lake, Nina is his first choice. But Nina has competition: a new dancer, Lily (Kunis), who impresses Leroy as well. Swan Lake requires a dancer who can play both the White Swan with innocence and grace, and the Black Swan, who represents guile and sensuality. Nina fits the White Swan role perfectly but Lily is the personification of the Black Swan. As the two young dancers expand their rivalry into a twisted friendship, Nina begins to get more in touch with her dark side – a recklessness that threatens to destroy her.
Starring: Natalie Portman, Mila Kunis, Vincent Cassel, Barbara Hershey, Winona Ryder
Directed by: Darren Aronofsky
Runtime: 108 minutes
Studio: Fox Searchlight Pictures
Amazon US
Amazon UK
IMDB
Review: Black Swan
Nina (Natalie Portman) is a young dancer in a New York City ballet company who dreams of being a star on the stage. Her chance comes along when the director Thomas Leroy (Vincent Cassel) announces that current starlet Beth MacIntyre (Winona Ryder) will be stepping aside. Training goes ahead for a showing of Swan Lake and Nina is soon chosen for the lead role though Thomas has concerns. Nina is perfect as the White Swan but he needs her to become darker and more sensual for the second role of the Black Swan. While Nina attempts to win over Thomas, she faces a rival in the form of Lily (Mila Kunis) who has the ability to be the Black Swan and could threaten to scupper Nina's chances.
Nina and Lily initially begin as friends despite the undoubted discontent amongst the other dancers who are envious of Nina being chosen for the lead role. Thomas trains Nina but emphasises her need to explore her dark side and insists on homework assignments including touching herself to shake off the tag of being solely the pure White Swan. Nina is desperate for the star role so complies with the demands. With Lily she is able to explore her sensual side further but the pressure begins to come at a cost. A domineering mother, Erica (Barbara Hershey), augments Nina's struggle and her grip on reality begins to break.
Aronofsky's psychological drama won a lot of rave reviews and it is well worth the praise. Portman full deserved the Oscar she won for her role as Nina, delivering two forms of her character exquisitely. Cassel, Kunis, Hershey and Ryder are fantastic support too but this film is all about Portman. The evocative image of a ballet show on stage is ripped apart to give us a fly on the wall behind the scenes look into a world of extreme pressure where the fear of losing beauty and stardom is rife and the physical and mental sacrifices the dancers have to devote to their art is astonishing and at times horrifying.
Black Swan is a brilliantly acted drama of one woman's desire to be a star and how she falls apart in her pursuit of excellence. An impressive cast work well together and this is expertly directed by Aronofsky from start to finish. Portman begins and ends the film in style, delivering arguably her finest performance to date.
Verdict: 4/5
(Film source: reviewer's own copy)

About the Author:
I was born in Barnsley, South Yorkshire, England and have always been a bookworm and enjoyed creative writing at school. In 1999 I created the Elencheran Chronicles and have been writing ever since. My first novel, Fezariu's Epiphany, was published in May 2011. When not writing I'm a lover of films, games, books and blogging. I now live in Huddersfield, West Yorkshire, with my wife, Donna, and our six cats - Kain, Razz, Buggles, Charlie, Bilbo and Frodo.
David M. Brown – who has written 816 posts on Tweedle Dee and Tweedle Dave.
---