About Black Sheep (2006)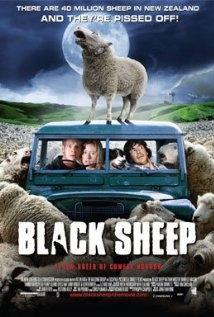 Blood-soaked horror comedy about a New Zealander, Henry Oldfield (Nathan Meister), with an unfortunate phobia of sheep. When Henry returns to his family's farm he is unaware that something baaaad is going on – his brother Angus' (Peter Feeney) reckless genetic engineering programme. When a pair of inept environmental activists release a mutant lamb from Angus' laboratory onto the farm, thousands of sheep are turned into blood-thirsty predators. Along with farmhand Tucker (Tammy Davis) and greenie girl Experience (Danielle Mason), Henry finds himself stranded on the farm as his worst nightmare comes to life.
Starring: Nathan Meister, Danielle Mason, Peter Feeney, Tammy Davis, Glenis Levestam
Directed by: Jonathan King
Runtime: 87 minutes
Studio: Dimension Extreme
Amazon USAmazon UKIMDB
Review: Black Sheep 
Horror films are a great excuse to turn so many animals we're familiar with into vicious monsters. Step forward Jonathan King who brings killer sheep to the table. The story begins with Henry Oldfield (Nick Fenton) who lives on a sheep farm with his father and older brother, Angus. Jealous of his brother, Angus plays a cruel trick on Henry, donning a sheep carcass and pretending to be a monster. Moments later the boys are informed their father has been killed in an accident. Henry is in shock and develops a phobia of sheep. Returning fifteen years later, Henry (Nathan Meister) has come back to sell his share of the farm to Angus (Peter Feeney). In Henry's absence, Angus has been having genetic experiments conducted on the sheep which leads two animal rights activists – Grant (Oliver Driver) and Experience (Danielle Mason) – to steal an obsolete supply from a clandestine lab. Inside a container is a small lamb which is inadvertently released and begins biting the local sheep population and turning them into bloodthirsty monsters.
A film about killer sheep is not supposed to be taken seriously and Black Sheep certainly doesn't try to do that. Giving Henry a phobia about sheep adds an extra dimension to his character and on his return home, Henry hooks up with an old friend, Tucker (Tammy Davis), and is later joined by Experience after her friend Grant is bitten and left in a pretty bad way. Yes, not only do sheep biting sheep create more killer sheep but if they bite humans they're turned into a man/sheep hybrid. With thousands of sheep on the rampage can our trio of friends survive and what of Angus and these scientific experiments?
I won't descend into a plethora of sheep gags about this one. As horror films go this ticks a lot of the boxes. The effects are pretty good, the acting isn't atrocious but it isn't spectacular either, but that's not a primary concern with many horror films. Lacking in scares, Black Sheep ups the ante with the gore and King is clearly paying tribute to that other New Zealand director – Peter Jackson – who started with Bad Taste and Braindead before taking the reins of The Lord of the Rings and The Hobbit. Will King enjoy similar fortune? Maybe so.
Black Sheep is a pretty decent horror film with merciless sheep running amok in the gorgeous hills of New Zealand. Heavy on the gore, this will satisfy many horror fans and there are some amusing moments thrown in to keep everything ticking along. You may never look at a sheep the same way again though!
Verdict: 3/5
(Film source: reviewer's own copy)
Film Review: Black Sheep | Thank you for reading Tweedle Dee and Tweedle Dave