About Alice in Wonderland (2010)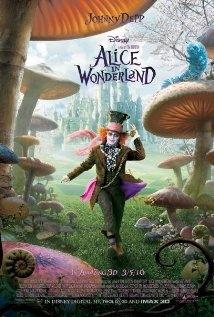 Tumble down the rabbit hole with Alice for a fantastical new adventure from Walt Disney Pictures and Tim Burton. Inviting and magical, 
Alice In Wonderland
 is an imaginative new twist on one of the most beloved stories of all time. Alice (Mia Wasikowska), now 19 years old, returns to the whimsical world she first entered as a child and embarks on a journey to discover her true destiny. This Wonderland is a world beyond your imagination and unlike anything you've seen before. The extraordinary characters you've loved come to life richer and more colorful than ever. There's the Mad Hatter (Johnny Depp), the White Queen (Anne Hathaway), the Red Queen (Helena Bonham Carter), the White Rabbit (Michael Sheen) and more. A triumphant cinematic experience – 
Alice In Wonderland
 is an incredible feast for your eyes, ears and heart that will captivate audiences of all sizes.
Starring: Johnny Depp, Mia Wasikowska, Anne Hathaway, Helena Bonham Carter
Directed by: Tim Burton
Runtime: 109 minutes
Studio: Walt Disney Pictures
Amazon US
Amazon UK
IMDB
Review: Alice in Wonderland 
Tim Burton has been one of the best directors since first appearing in the 1980s but some of his more recent efforts haven't been up to his usual high standards. While the likes of Beetlejuice (1988), Edward Scissorhands (1990) and Ed Wood (1994) saw Burton at the top of his game the likes of The Planet of Apes (2001) were not typical of his undoubted talent. A new version of Alice in Wonderland sounded interesting but I had had heard mixed reviews prior to viewing so was naturally concerned.
The film focuses on Alice (Mia Wasikowska) who is now nineteen is struggling to master etiquette of the upper classes, preferring to follow in her late father's footsteps in the world of adventure. Attending a party at the film's opening, Alice is proposed to by Hamish (Leo Bill), in front of a huge crowd but slips away when she spots a white rabbit with a waistcoat and a watch nearby. Alice finds herself back in Wonderland and rather than being the colourful, but eccentric, world we remember it is in the midst of dark days with the ruthless Red Queen (Helena Bonham Carter) at war with her sister the White Queen (Anne Hathaway). A prophecy has led the inhabitants of Wonderland to believe that Alice will return to Wonderland and slay the jabberwocky, which is owned by the Red Queen. Unfortunately, Alice is convinced she isn't the girl from the prophecy and it is down to the inhabitants of Wonderland especially the Mad Hatter (Johnny Depp) to prepare Alice for battle.
The first notable point about Alice in Wonderland is the array of talent on offer here. Depp is a mainstay of Tim Burton's films and delivers an interesting interpretation of the Mad Hatter, adding a level of poignancy when revealing aspects of the character's past and his descent into lunacy. Michael Sheen (the White Rabbit), Matt Lucas (Tweedle Dee and Tweedle Dum), Alan Rickman (the Caterpillar) and Stephen Fry (the Cheshire Cat) are just some of the standouts the film has to offer. The effects are very good and Wonderland has been recreated on a grand scale but those that know me well realize that it takes more than fancy effects to tip the balance of a film in my favour and this is sadly the case here.    
While most of the characters are fun to watch, Wasikowska is okay as the lead, being outshone by the likes of Depp and Fry, which is nothing to be ashamed of but with Alice being such a pivotal character the film does suffer. Her being older has affected the character too. She comes across as more stroppy and spoilt than in her previous visit, adamant she isn't the Alice that will save Wonderland from the Red Queen but, of course, she does find the courage and a sword and some armor in the end to go off to battle. It's all pretty predictable stuff in the end and doesn't come across as overly dramatic which is a real shame.
Some of the performances in Alice in Wonderland are well worth seeing. Depp in particular shines as he usually does in most films I've seen. Bonham Carter (with a very large head) is delightfully menacing as the Red Queen too. Effects galore make this a visual and indeed colourful treat for the eyes but the film falls somewhat flat by the end. The obstacles to a happy resolution posed by Alice's reluctance to believe her previous visit to Wonderland was real and not a dream is quickly overcome as we enter the final reels. She goes from being self-doubting to a champion warrior, fit to take on the huge and menacing jabberwocky. This is certainly not a bad film but there are many elements that could have been done a lot better.
Tim Burton's latest project is more in the vein of Planets of the Apes and Charlie and the Chocolate Factory. These are not bad films but they are flawed. I admire Burton greatly as a director but for his next projects I'd like to see some of that Edward Scissorhands magic returning rather than just another adaptation of a story others have done before. Alice in Wonderland has its moments but by the end it's somewhat unspectacular and clear that the effects were given the bulk of the films' budget.
Verdict: 2/5
(Film source: reviewer's own copy)
Film Review: Alice in Wonderland | Thank you for reading Tweedle Dee and Tweedle Dave