About 8½ (1963)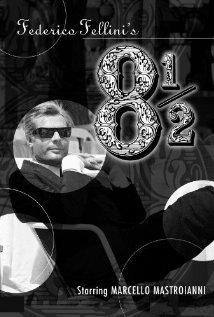 Marcello Mastroianni plays a character based on the film's director, Federico Fellini. Guido Anselmi (Mastroianni) is a successful filmmaker who takes a rest at a spa between projects, but finds himself creatively bankrupt and constantly pestered by his writer, several actresses, his wife and his mistress. The director begins to re-live moments from his past as he becomes increasingly distanced from the present. The film won the Oscar for Best Foreign Language Film.
Starring: Bruno Agostini, Anouk Aimée, Guido Alberti, Caterina Boratto, Claudia Cardinale
Directed by: Federico Fellini
Runtime: 138 minutes
Studio: Criterion
Amazon US
Amazon UK
IMDB
Review: 8½ 
As an aspiring film buff I am frequently traveling back to try the landmarks in cinema history. Today's lesson is to begin my first affiliation with the work of renowned director Federico Fellini who won 5 Oscars in his illustrious career. 8½ tells the story of director Guido Anselmi (Marcello Mastroianni) who is working on a science fiction film but is struggling for inspiration. Moving between relaxation at a spa and the film set, Guido is in the midst of an affair with Carla (Sandra Milo), but calls on his wife Luisa (Anouk Aimee) to come and be with him despite their marital problems. Under pressure to deliver another masterpiece, Guido struggles to deal with his personal life and having to cater for the demands of actresses, actors and his other associates. Guido turns to his past and into elaborate dreams as a means to escape but also to find the answers to his perplexing life.
Fellini's reputation makes one expect nothing but greatness and when I started 8½ I was initially worried it wasn't going to be for me. Thankfully, I soon settled into the film. This is considered part autobiographical and you can imagine the difficulties Fellini must have had to keep delivering masterpieces. Guido is no exception. In the early stages he appears weary of the hustle and bustle of his career. Actresses want parts in his film, producers demand progress and results, and Guido finds some comfort with a mistress away from his failing marriage. Guido and his wife, Luisa, are no longer on the same wavelength and she is no fool when it comes to her husband's infidelities. Guido's film begins to incorporate elements of the dreams and past he escapes into including a tough Catholic upbringing. The question is can Guido get his act together and make this latest film and can he save his marriage?
8½
initially takes some getting used to as reality shifts into flashbacks and dreams before moving back to reality once more. The film is never dull but does demand one's attention. The cast are very good with Marcello Mastroianni excellent as the lost Guido. The film builds to a somewhat surprising ending but amdist Guido's struggles to navigate the past, dreams and reality, we have a fascinating insight into Fellini's world.
8½ is a critically acclaimed masterpiece, regarded as one of the finest films ever made. While my appreciation of Fellini's film may not extend as far as that, I did enjoy this one and fully intend to go back and sample more of Fellini's work in the near future. If you're considering 8½ then I would recommend trying it for it is worth many of its plaudits.
Verdict: 4/5
(Film source: reviewer's own copy)
Film Review: 8½ | Thank you for reading Tweedle Dee and Tweedle Dave