About 5 Centimeters Per Second (2007)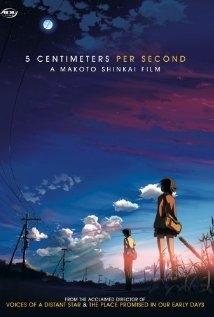 Beginning with the lyrical image of cherry blossoms falling at five centimeters a second Makoto Shinkai paints a breathtakingly vivid tableau of young love, desire, loss and hope. Told in three breathtaking chapters we follow the young dreamer Takaki through his life as cruel winters cold technology silence and finally adult obligations and responsibility converge to crush the delicate petals of true love. Finding beauty in everyday objects and moments Shinkai reveals he is a master of animation and haunting beautiful storytelling. Fall in love with this gorgeous thoughtful film hailed by critics and audiences alike for its beauty truth and innovation in animation.
Starring: Gregory Peck, Dorothy McGuire, John Garfield, Celeste Holm, Anne Revere
Directed by: Makoto Shinkai
Runtime: 118 minutes
Studio: 20th Century Fox
Review:  5 Centimeters Per Second 
Makoto Shinkai's film is actually three features – one connected story told across three episodes. The film begins in the 1990s and tells the story of school friends Takaki Tono and Akari Shinohara. Takaki is the focal point of all three episodes. At the outset he meets Akari and the two form a close friendship, uniting in many preferences, including their desire to stay inside and avoid aggravating their allergies. Though teased at school for being close, Takaki and Akari continue to maintain a solid friendship but there are challenges awaiting them.
The first episode – Cherry Blossom – is told through a series of flashbacks as Takaki is on a train bound for Tochigi. Akari has been forced to move there some time before but she and Takaki have maintained contact by letter. Takaki's train battles snow and near blizzards on its painfully slow journey and we see images of the two friends, watching cherry blossom trees and Akari reflecting on how the leaves fall at five centimeters per second. This is the last time the friends will see each other for a long time. Takaki's family are moving to Kagoshima so he wants to seize the chance to see Akari. In the second episode – Cosmonaut – Takaki is studying at a school in Tanegashima and has the attentions of a student, Kanae Sumida, who has fallen in love with him but cannot bring herself to tell him. Kanae notices that Takaki is frequently sending texts and emails in his moments alone but who to? Will Takaki find a new life with Kanae or will he always desire to see Akari? The final part – 5 Centimeters Per Second – chronicles Takaki and Akari as adults in the present day and where they both find themselves. I can't say anymore at a risk of ruining the film.
I have been looking forward to seeing this film for quite some time and I am delighted to say it did not disappoint. Rather than a love story, this is a painful and emotional depiction of two friends desperately trying to keep in contact despite the vast distance between them. Though they are enthusiastic in maintaining contact at the outset, time eventually begins to take its toll on them and they sadly start to drift apart. Will they be able to bridge the void later in life? While the story is heartfelt the film is a visual treat, creating some of the most beautiful images you are likely to see from the world of anime. While the characters were maybe not as well animated as those that emerge from Studio Ghibli, this was still a near flawless film, the only downside being that length of just a solitary hour, but what an hour it is.
5 Centimeters Per Second is one of the most beautiful films I have ever seen. The friendship depicted here is wonderfully conveyed and the difficulties that face both Takaki and Akari will be familiar to so many of us that have known friends in the past but no longer know them now. My next stop will be the novel that extends on this film and promises more of the story. Though this feature has a somewhat unresolved ending it is completely apt with the overall message that Shinkai is trying to reflect.
Verdict: 5/5
(Film source: reviewer's own copy)
Film Review: 5 Centimeters Per Second | Thank you for reading Tweedle Dee and Tweedle Dave