About 127 Hours (2010)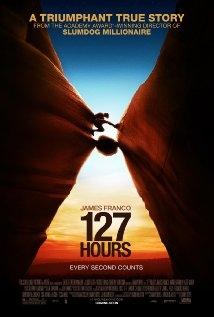 A triumphant true story from Danny Boyle, director of 
Slumdog Millionaire
. The incredible true story of mountain climber Aron Ralston's (James Franco) remarkable adventure to save himself after a falling boulder crashes on his arm and traps him in an isolated slot canyon in Utah. With only a day's worth of water, a blunt penknife and an unwavering will to survive Aron does everything he can to make it out alive.
Starring: James Franco, Kate Mara, Amber Tamblyn, Sean Bott, Lizzy Caplan
Directed by: Danny Boyle
Runtime: 89 minutes
Studio: 20th Century Fox Home Entertainment
Amazon US
Amazon UK
IMDB
Review: 127 Hours 
Danny Boyle's Oscar-nominated survival drama received high praise on its release. I'd previously enjoyed the likes of Alive (1992) and Touching the Void (2003) so couldn't wait to try this one. The film tells the true story of Aron Ralston (James Franco) who headed for Utah's Canyonlands National Park in April 2003. After biking, hiking and meeting two girls, Kristi (Kate Mara) and Megan (Amber Tamblyn), Aron goes off alone. He heads down the Blue John Canyon when a boulder suspended on the rocks comes loose, falling with Aron and trapping his arm against the canyon wall. With little food and water, Aron faces a desperate struggle for survival and we follow his excruciating ordeal of 127 hours.
The film begins quickly with Aron heading off for a day's hiking. Crucially he cannot find his Swiss army knife at the start and makes do with a blunt knife, a free accessory with a torch he received as a gift from his mother. Knowing the plot there is a sense of foreboding early in the film and even when Aron falls from his bike he is unconcerned. His life is an adventure. He hangs out with two hikers for a time and they invite him to a party that night which he accepts before going off alone. Aron's accident is cringe-worthy, the boulder that falls into the canyon with him trapping his arm and proving too heavy for him to move. During five days of isolation Aron assesses his life, a former girlfriend (Clemence Poesy) whose heart he broke and the many calls from his parents which he never returned. At one point Aron films a TV show where he interviews himself and realises just how foolish he has been, heading out hiking and telling no one where he is going. The film culminates in the difficult decision Aron eventually made to amputate his own arm. This is not a straightforward process as you can imagine. The scene itself is not for the faint hearted and although I wouldn't describe it as gory it is still an unpleasant moment. When it's over you will feel for Aron and that this really happened makes it all the more harder to watch.
I really enjoyed
127 Hours
. It lost out to
The King's Speech
at the Oscars but there is no shame there. Franco is superb in the lead, spending the majority of the film alone and having to keep us gripped throughout which he accomplishes exceptionally well. I enjoyed the story so much that I had to read more about Aron and the aftermath is just as inspiring as his incredible story of survival. There is a valuable lesson or two within the film as well.
127 Hours is a brilliant survival drama of one man that endures so much before literally cutting himself free. Well directed and acted throughout, this is well worth the praise it has enjoyed. If you don't know Aron's story then this is a great opportunity to find out more about this remarkable man.
Verdict: 5/5
(Film source: reviewer's own copy)
Film Review: 127 Hours | Thank you for reading Tweedle Dee and Tweedle Dave