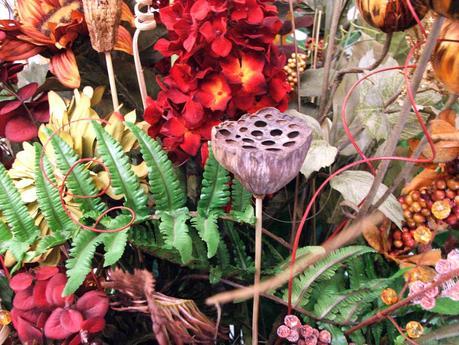 Winter has just left us and we are lucky enough to be in Spring and on the cusp of a hot , hot Summer but here are some tips to remember for next Fall and Winter, or should you want a change from fresh flowers in your home. xx
Whether dressing your house to sell or simply for your household to enjoy, flowers create a natural, pleasing decoration. The smell of freshly cut flowers is reminiscent of spring sunshine and summer meadows. However, in the winter months, fresh blooms are less readily available. Despite the shortage of fresh cut flowers, there are various ways to bring a touch of nature indoors. Introduce flora and fauna into your home even as the .
Pressed and Dried Arrangements
A mixture of dried flowers creates stunning visual displays. Suitable for large ornamental pedestal displays and compact designs for table centers alike. Dried flowers elongate the natural growing season of blooms. So a traditional summer can form part of a display in the depths of winter.
Flowers can be purchased already dried. Alternatively, you can turn a fresh sentimental arrangement such as a bridal bouquet into a dried version. Drying flowers is a skilled art, so seek a professional's services if you wish to preserve your blooms forever.
Press single stemmed flowers and create a decorative surround for display. Mount them in a frame and hang them on the wall. Although the scent is long gone, the beauty of the variety is preserved in perpetuity.
Arrangements of dried flowers attract the dust. Use a gentle cloth or spritz with a light mist of spray to remove unwanted particles.
flowers occupy the high-end of the artificial flower market. Artificial flowers are often associated with plastic copies that bear little resemblance to the real deal.
Silk flowers, on the other hand, are exquisite representations of natural blooms. Artistic displays make for stunning decorations around the home. Avoid placing silk flowers in bright sunlight to maintain the integrity of the colours.
Getting hold of flowers outside their natural growing season can be challenging. Flowers bought out of season are more expensive as they are shipped from overseas. Indeed, whatever the season, some varieties simply can't be grown on home soil.
If you are craving exotic or unseasonal flowers, a professional florist can assist. A Touch of Class Florist and other such retailers endeavour to source out-of-season flowers whenever possible to do so. Procure a stunning bouquet or basket of exotic flowers to fill your home with sunshine.
Keep the costs down by interspersing exotic blooms with home-grown varieties too.
Winter brings its brand of seasonal varieties. Although freshly cut flowers are rare, there are plenty of alternatives to introduce instead.
Festoon the house with festive favourites and bring the outdoors in. Christmas is synonymous with Holly and ruby red berries. So deck your halls this season with tactile wreaths and homemade Christmas decorations. Hang pine cones on the tree as a natural alternative to baubles. Fill a crystal bowl with shiny brown conkers. Hang up strategically placed mistletoe and sneak a cheeky kiss! The winter season opens up a playful host of natural greenery and frost-loving varieties. Vases filled with winter thistles partner well with twisted twigs sprayed with glitter. Experiment with hardy greenery and search woodlands for those hidden winter treasures.
Fill your home with flowers and foliage this season and create a stunning focal point in every room